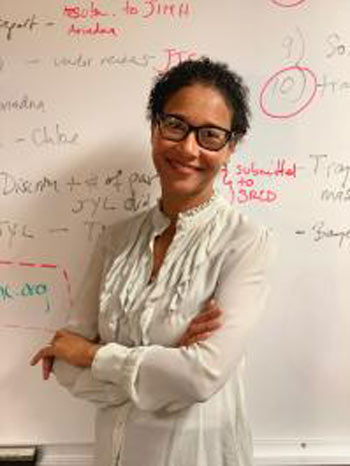 July 14, 2022 — PEF research scientists at the forefront of the mental health field are studying and implementing community-based programs to reach underserved New Yorkers. 
A PEF member since 2015, research scientist Dr. Crystal Lewis directs the Division of Social Solutions and Services at the Nathan Kline Institute (NKI) in Orangeburg, Rockland County, and serves as an associate professor in the Department of Psychiatry at NYU School of Medicine where she was recently appointed the Laurie M. Tisch Scholar for Racial Equity in Mental Health. 
She is an expert in the study of stigma and discrimination, particularly among socially and economically disadvantaged communities burdened with mental illness and substance use problems exacerbated by a myriad of social and structural determinants of health. 
"My work focuses on merging or breaking down the silos between policy, research and practice," she said. "I'm focused particularly on the role that racism plays in the structure and functioning of all our systems and institutions. 
"Just being Black in America, you receive different and, too often, subpar treatment, especially when it comes to behavioral health," Lewis said. "How do we begin to do more purposeful work to address racism head on and not as something that is an afterthought, or not a thought at all when we see different outcomes based on a person's race?" 
Community-based research 
With a background in community-based research and working in a state that supports mental health research, Lewis is well-positioned to drill down into what is required to better serve communities long overdue for quality services, free of stigma and bias. 
"First and foremost, the wonderful thing about working in New York as a researcher is that this is one of the few places in the country that we use our tax dollars to support research and evaluation aimed at mental health and psychiatric illnesses," she said. "When I took this job, the understanding was I'd bring a new focus on the social determinants of health, which I have prioritized in my work with community-based populations, to design and implement interventions for people disconnected from treatment and prevention services. That's what I bring to the state and our division that sets us apart. Traditionally, people think of services in clinical settings and hospitals, with people who are already connected to care.  We are trying to get people connected and create services more amenable, useful, and relevant to the needs of people who are forced to contend with racism and other forms of stigma and discrimination, both interpersonal and systemic." 
Lewis also serves as a senior advisor for the new Office of Prevention and Health Initiatives at the Office of Mental Health (OMH). 
"It's a new office that is dedicated to prevention," she said. "This is something OMH has not traditionally focused on, and until now, it would get shuffled around or surface in some programs or not. We were very treatment focused." 
This structural change at OMH is vital to meet the mental health needs in the community at large, spanning urban to rural areas of New York State. 
Mentoring award 
The Department of Psychiatry at NYU selected Lewis for its Research Mentorship of Faculty Award in "recognition of her exceptional mentorship and career development contributions," according to the NKI website. "Dr. Lewis's nominations for this award highlighted her work in social justice as informing her mentoring, and her impact through her committee work and professional organizations to mentor and support the scientific research careers of many." 
Lewis is proud of her work with young researchers and those who are interested in conducting research on health equity with an emphasis on community, social and structural environments. 
"I've pooled researchers together," she said. "We started a disparities research collaborative, where we support each other with grant writing, federal funding, private funding, and manuscript development, focused particularly on the role that racism plays in our system that, in turn, directly impacts individual health outcomes." 
Fostering the careers of minority faculty and other faculty committed to studying racialized communities is important to Lewis. 
"We have been talking about the structural challenges hindering Black researchers," she said. "We're still expected to achieve the same metrics, when we don't have a level playing field and we are finding ways to bring attention to this structural barrier, while also providing support."