August 16, 2022 — Sometimes real, meaningful progress takes a long time.  You may even need to fight just for basic survival, but in the end, when all of your efforts start to bloom, you know it was worth it. 
That's the happy feeling now for members of PEF Division 167 at Western New York Children's Psychiatric Center in West Seneca, near Buffalo.  The center serves children and families in 19 counties and, ultimately, they are the big winners in what has been a very long and drawn out battle, just to see the center survive.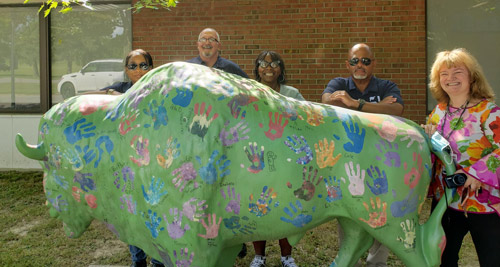 PEF worked with those families, area legislators, civic leaders and many others for five years to derail then governor Andrew Cuomo's plan to close the facility and move the services to Buffalo Psychiatric Center.  To everyone's amazement, they eventually prevailed and Cuomo even said he would invest in making capital improvements to the facility, but time, the pandemic and Cuomo's resignation in 2021 seemed to relegate those plans to unfulfilled promises status. 
But just a couple weeks ago, on Aug. 2, 2022, Gov. Kathy Hochul and state Mental Health Commissioner Dr. Ann Sullivan announced the state was breaking ground on a $55 million project to renovate the center and add 50,000 sq. ft. of residential and clinical support space.  The existing facility dates from 1970. 
"We are so happy and very excited about this," said Division 167 Council Leader Patricia Moran, who has worked at the center for three decades and was assistant council leader during the five-year campaign to save the facility.   
"It is great news for our members and all of the staff and the children and their families," said PEF President Wayne Spence.  "It took a huge coalition effort by so many people in that region to save WNYCPC, and Stephanie McLean-Beathley who was our council leader there back then,really led that campaign.  Scott Dobe is their Executive Board member and he was part of it, too, as well as PEF retiree Dave Chudy.  We had strong support from Sen. Patrick Gallivan and many legislators and leaders in western New York.  This new investment in the center is welcomed by everyone who fought to save it, and we are very grateful for their hard work and determination." 
"We all worked side-by-side together because we care about the children here," Moran said.  "In fact, some of our strongest advocates were people who had been treated here when they were adolescents." 
McLean-Beathley said mental health professionals joined the community in speaking out on the need to save the facility.  "It took a lot of people helping us to win that battle."  She paid a personal price for her leadership and said she felt that the facility "black-balled" her and passed her over for a promotion.  She's now administrator of the PEF Membership Benefits Program. 
The renovations will provide many improvements to areas including the pool and auditorium, as well as residential and educational space.  The project is expected to take 24 to 28 months and will preserve the current capacity of 46 beds while updating many features to ensure patient and staff safety. 
Moran said the renovations and construction will pose new challenges for the center's staff and the youths being treated there, but she is confident that it will go well.  The news of the groundbreaking came as a surprise to Moran and the center's PEF members, and she said it made her think of the big green buffalo statue at the center.   
"We call that statue 'Miracle' because the coalition – Save Our WNYCPC — paid for its installation and just two weeks later we learned the center would be saved," she said. "Gov. Hochul was our lieutenant governor then, and she was the first to put her handprint on the statue.  After that, we all put our handprints on it. It's a real symbol of how strong we are when we all work together."