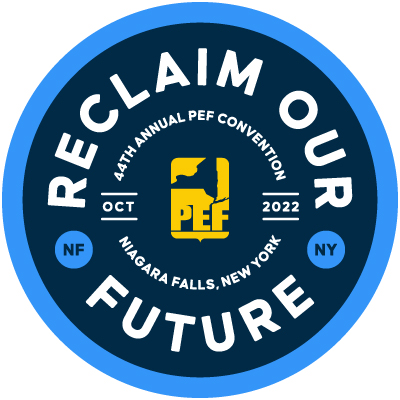 The 2022 PEF Convention will be in Niagara Falls again this year and it will be held from Sunday, October 23, through noon Wednesday, October 26.
Between now and then you may want to talk to your delegate about issues at your worksite, and matters they may vote on or want to raise at the convention. The list of delegates is available here.
PEF conventions are the highest policy making body of PEF and the delegates will have plenty of work to do.  They will consider amendments to the PEF Constitution and debate and vote on resolutions.  They will set the union's state and federal legislative agendas for 2023   and delegates from each state department and agency will establish the constituencies for their Executive Board seats.  In addition, the delegates will hear from the union's leadership and guest speakers.  They will attend workshops and take opportunities where they can to phone members and encourage them to vote in the November general election.
PEF Membership Benefits will offer a vaccination clinic on site, where PEF members, retirees and members of the public may stop by and receive their COVID and flu shots to help protect them through the winter.  There will also be a blood drive conducted by PEF Membership Benefits on Tuesday, October 25.  (Click here for a flyer about the blood drive, which includes a phone number to call and make an appointment.)
"Our annual convention is a time to work and to learn, but it is also a great chance to see the breadth of our membership, to learn about other state departments, programs and operations, meet other delegates, network and build friendships," PEF President Wayne Spence said.  "It is a unique opportunity to surprise ourselves and each other with our commitment and creativity.  I look forward to it."