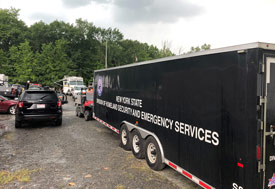 September 22 — It took eight days of suppression efforts for responders to knock down and contain the Napanoch Point wildland fire in Minnewaska State Park, a testament to the dedication of state and local partners who took swift action to combat the blaze. 
What started as a suspected lightning strike on August 27 quickly spread to approximately 163 acres of the park. Crews also battled and contained nearby Stony Kill and Wurtsboro fires. 
PEF members at the Department of Homeland Security and Emergency Services (DHSES) and the Department of Conservation (DEC) joined the more than 200 firefighters, bulldozer operators, pilots and other professionals and volunteers on site. 
DEC Forester Kramer Kwaczala was one of them. A forester 1 in the Conversation Easements Program, Kwaczala has been a PEF member for more than 6 years. 
"During the Napanoch Point fire, I was assigned to be a sawyer, someone who is qualified to run a chainsaw," he said. "At first, we assisted a bulldozer by cutting trees down in front of it so the operator could push them out of the way. Later in the week, I was assigned to clearing and digging line on the Red Trail." 
Kwaczala began wildland firefighting in 2012 when he received a wildland fire certificate from the SUNY College of Environmental Science and Forestry Ranger School. He has extensive chainsaw experience from assisting forest rangers and from SUNY.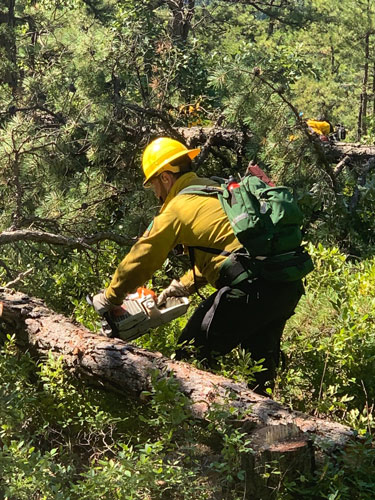 The collaboration between agencies kept those on the scene coordinated and safe, Kwaczala said. 
"There was a great response from all participating agencies," he said. "Once we were all organized, the forest rangers ran an effective incident command. The fire grew rapidly. When I arrived on Sunday it was at 15 acres and by Wednesday more than 100.  
"During this growth, we all worked quickly as the high heat and fierce winds pushed the fire around," he said. "One afternoon, I looked up to see fire 20 yards in front of me, engorging the crown of a pitch pine. Due to the great coordination and organization, everyone stayed safe." 
This wasn't Kwaczala's first in-state fire. He battled the Sam's Point Fire in 2016 and has gone out west twice with the DEC, first to Colorado in 2020 and then to California in 2021. 
PEF members at DHSES are trained in fire incident command and several of them hit the ground running to help organize the Minnewaska fire response. 
"The work of our staff is an integral part of the response," said PEF Division 179 Steward Ben Giles, a fire protection specialist. "While we were not actively fighting the fire, our members on site provided crucial help in the transport of wildland firefighters and equipment through the rough terrain, allowing for a more efficient response. Some of our staff were involved in the tracking of equipment, which is essential for accountability, safety, and financial tracking. Staff are also responsible for helping in the coordination of other agency's assets that may be requested to the site." 
PEF fire protection specialists and an administrative specialist assisted in the Fire Operation Center, at the staging area, on transport missions, and with the DEC Incident Management Team. 
While this fire might have been started by lightning, fire safety awareness can go a long way to preventing wildfires. 
"If you are going to have a fire, make sure it is manageable and easy to extinguish," Kwaczala said. "Know how dry it is where you are going to have your fire. One of the biggest things is to extinguish your fire completely before you leave it – meaning dumping water on it and mixing it up a few times to make sure that it is cold to the touch." 
Giles also stressed the importance of wildfire warnings and extinguishing your fires. 
"It is important to keep fire safety in mind to prevent wildfires," he said. "Pay close attention to the NYS DEC and U.S. Forest Service wildfire warnings. Don't have fires during drought or dry times of year, follow burn bans, and don't burn during windy weather. Always have a means of putting out a fire when you have one and ensure that your fire is extinguished before leaving the area – no fires should be unattended."