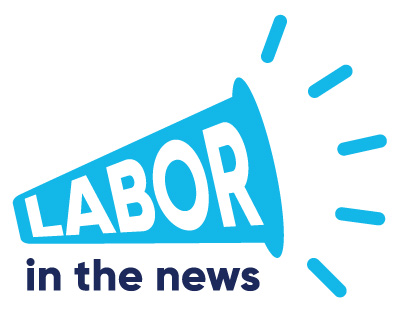 Support for labor unions highest since 1965: Gallup 
American support of labor unions rose 3 percent over the last year, from 69 percent to 71. 
Increased support is attributed to union drives at major companies across the country. A Starbucks in Buffalo became the company's first union location in December 2021, with more than 200 stores holding successful votes since. In April, a warehouse in New York City became the first unionized Amazon location. 
"The new poll found that 6 percent of U.S. adults report that they are a union member, and 16 percent live in a household in which at least one resident is part of a union," an article on the Gallup poll stated. 
Railroad unions reach tentative deal with 24% pay raises 
There are 12 unions in negotiations with the country's largest freight railroads and three have reached a tentative deal that would deliver 24 percent pay raises and avoid large-scale strike action. 
The tentative five-year deal covers more than 15,000 members of the International Association of Machinists, the Transportation Communications Union and the Brotherhood of Railway Carmen unions. 
"The railroads have until mid-September to reach agreements with all their unions before federal law would allow them to go on strike. If it gets to that point, however, Congress is expected to step in to keep the trains moving because a rail strike could be devastating to the economy. Lawmakers could impose terms on both sides or order arbitration," according to news reports. 
Labor board rules Tesla must let workers wear union clothing 
Tesla factory workers scored a win Aug. 29 when the National Labor Relations Board reversed a decision that barred employees from wearing clothing with union insignia while on the job.  
In a 3-2 decision, the court ordered Tesla to "stop enforcing an 'overly broad' uniform policy that effectively stops production workers at Tesla's Fremont, California, factory from wearing black shirts with the United Auto Workers logo." 
Red-hot labor market helping union organizers 
The robust labor market affords workers more bargaining power and is fueling recent union victories at high-profile U.S. companies like Amazon, Starbucks, Apple, and more recently, Trader Joe's and Chipotle. 
"The labor market by conventional metrics is very tight. Hires are still high historically. Quits are very high," Guy Berger, principal economist at LinkedIn, told The Washington Post. "Workers see a lot of opportunities. The temperature of the labor market is still really hot." 
Read more here.