August 31, 2022 — Every student in New York deserves a quality education and PEF members at the State Education Department (SED) work daily to make sure educators across the state have the tools, resources, and guidance they need to help students succeed.  
The U.S. Department of Education approved New York's Every Student Succeeds Act (ESSA) plan in January 2018. The plan emphasizes fostering equity in education for all students and expands measures for school accountability and student success.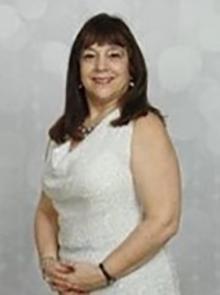 Mary Sapp, a PEF member since 2002 and a former teacher, is supervisor of the practitioner field-based support team in the Office of Accountability at SED, tasked with partnering with schools and districts identified as low-performing through SED's accountability system and overseeing SED's support of these schools and districts.  
"Our mission is to ensure that teachers and practitioners have the tools and resources they need to support student achievement," Sapp said. "My job entails the facilitation and supervision of professional educators that are responsible for program development, planning, implementation, and monitoring; technical assistance; and school accountability and improvement." Ms. Sapp currently provides guidance and oversight to professional staff members who work with 'practitioners' in the Field Support Team's Instructional Coaching Consortium, Extending Digital Learning, and new Coaching for Excellence options available to Comprehensive Support and Improvement (CSI) Schools. 
The New York accountability system classifies schools into three categories: (1) In Good Standing; (2) Comprehensive Support and Improvement (CSI), made up of schools that performed at level 1 on a combination of ESSA indicators or schools with a graduation rate of less than 67 percent; and (3) Targeted Support and Improvement (TSI), made up of schools with one or more student subgroups performing at a level 1, according to the SED website. Districts are divided into two categories: In Good Standing and Target District. 
The Field Support Services team works with these schools and districts on needs assessments, improvement planning, school support, required actions and training. Tasks include developing and refining policy and procedures; providing policy and program guidance to schools; developing and directing program protocols and plans; managing the development of examinations; coordinating provision of technical assistance; overseeing correspondence, research, and guides; supervising professional and support staff in the preparation of written materials, including correspondence and research; and, performing the full range of supervisory duties, Sapp explained. 
She is dedicated to quality education, having spent years in New York schools teaching in the fields of elementary, reading, secondary and special education before moving to special education quality assurance and then into special education data collection for Vocational and Educational Services for Individuals with Disabilities.  
"What I like most about my job is working with my colleagues and being able to serve the students of New York state," Sapp said. "I like helping to facilitate our work in ensuring equity and access to high-quality educational programs for all students, and promoting continuous improvement by providing support, resources and oversight for schools and local educational agencies in New York." 
Sapp is also a very active PEF member, serving on the Region 8 Women's Committee, working as a mobilizer, serving on her division's Outing and Holiday Party committees, and supporting her coworkers as a Steward. She has been a delegate to the PEF Convention since 2003, and at the AFT Convention in 2018 and 2022. Sapp was recently re-elected as secretary of Division 194 after serving two previous terms. 
Mary Sapp delivers a "Fund Our Future" testimonial at the 2021 PEF Convention in Niagara Falls.