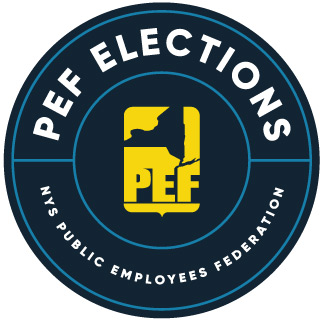 September 15, 2022 — Four vacant seats on the PEF Executive Board have been filled and a fifth seat will be filled pending the results of a special election.  These were all mid-term vacancies and PEF members filling them will serve the remainder of the unexpired terms that end July 31, 2024.
Keith Browne fills Seat 105 that represents certain members at the state Department of Environmental Conservation.  Robert Doran fills Seat 202 that represents members at the state Office of the Medicaid Inspector General.  Indermattie Balkaran fills Seat 375 that represents certain members at the state Office of Mental Health.  And Kyle Jacobson fills Seat 485 representing certain members at the state Department of Taxation and Finance.  All four of these candidates were automatically seated because they were the only certified candidates for those positions during the Third Quarter Special Elections.
Two candidates were certified for Seat 245 representing certain members at the state Labor Department and an election was held between Kevin Jones and Michael Marquez.  The American Arbitration Association will count ballots in that election September 16.
No candidates were certified for 12 additional vacant board seats and nominees will again be sought for them in the Fourth Quarter Special Election, along with any new board vacancies and the now vacant post of PEF Region 12 coordinator.  Region 12 includes both Nassau and Suffolk Counties on Long Island.
PEF President Wayne Spence urged PEF members who are eligible to run for the vacant seats to give it serious consideration.  "We are always stronger together.  We need voices representing every part of our membership debating our issues, and voting on our actions and policies.  Vacant board seats mean that all of those members represented by that seat are going without their rightful chance to participate fully in setting our goals and acting on them.  That's unfair to them and we all suffer for it.  So, please, consider stepping forward and run to fill a vacant seat."
Nominating petitions for the Fourth Quarter elections will become available October 11 at www.PEF.org/Elections and must be returned to and received by the Special Elections Committee by 5 p.m. November 2.  If more than one candidate is certified by the committee for any vacant seat, ballots will be sent to that constituency November 23 and must be returned to AAA by December 15 for counting the next day.
At this time, the following vacancies will be subject to the Fourth Quarter election process:
Region 12 Coordinator;
Seat 1, Agriculture and Markets;
Seat 15, Civil Service;
Seat 40, Corrections and Community Supervision;
Seat 90, Higher Education Services Corporation;
Seat 101, SUNY Stonybrook;
Seat 104, SUNY Stonybrooik;
Seat 172, Information Technology;
Seat 173, Information Technology;
Seat 220, Workers' Compensation
Seat 395, Office for People with Developmental Disabilities;
Seat 425, Public Service;
Seat 520, Transportation; and
Seat 545, Political subdivisions of NYS.