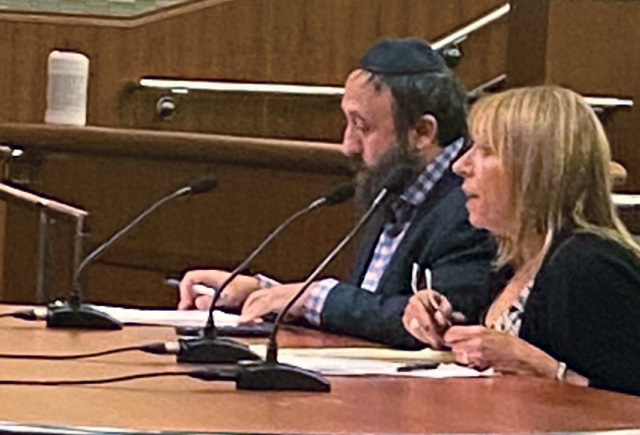 September 15, 2022 — PEF testified September 13 in Albany when the Assembly Committee on People with Disabilities held a public hearing on a draft strategic 5-year plan developed by the state Office for People with Developmental Disabilities.
PEF Vice President Randi DiAntonio, who was limited to just 3 minutes of verbal testimony along with other witnesses after the committee spent hours questioning OPWDD Commissioner Kerri Neifeld, said the agency missed an important opportunity by not inviting its own professional staff — who are represented by PEF — to participate in developing the plan.
As PEF said in the written testimony that it submitted, "Unfortunately, neither PEF nor its members were consulted or asked for comments on this plan during its development. This lack of collaboration resulted in a plan that completely failed to recognize or address the agency's short- and long-term challenges around attracting and retaining staff, or how the agency plans to continue to deliver quality services through the state-operated residences and other state-operated programs."   PEF also highlighted the need for a thoughtful approach to attracting and retaining talent in order to re-open the hundreds of state-operated residences that have closed or "suspended services" over the past 18 months.
The Assembly committee, chaired by Thomas Abinanti of Westchester, divided the testimony into nine sections – overview; workforce; barriers to services; availability of services; employment; quality of services; housing; self-direction opportunities for people with developmental disabilities; and miscellaneous other issues.  PEF was assigned to a panel of witnesses addressing the availability of services.
DiAntonio, a licensed social worker at OPWDD for 25 years, said, "It saddens us to see what's happened to our system."  Over a period of years, the state has greatly reduced its direct services to the public, its facilities and its workforce to provide those services.  Contracting with private providers and shifting services to community-based programs as much as possible has not been able to meet the need and has put a great burden on individuals with developmental disabilities and their families.  The state employed more than 29,000 people to serve these individuals in 1990, but that workforce had dropped to just 16,139 when the 2021-22 state fiscal year ended in March.
"In just the last year and a half, OPWDD has lost 2,300 staff," DiAntonio said.
She noted that many PEF members at OPWDD were deemed essential workers throughout the COVID pandemic and they risked their lives and those of their families to maintain continuity of care and quality services for individuals with disabilities, many of whom have medical and physical issues that make them especially vulnerable to the COVID virus.  The very low staffing and ever-mounting workload has had a crushing effect on the dedicated staff who remain.
"A lack of respect and communication is why people are leaving," DiAntonio said.  "The state needs to respect and include its professional staff in discussing and developing plans and strategies.  We need to be included."
The submitted plan focuses mostly on the role that private, not-for-profit providers played in the system.  It barely mentions state-operated facilities and New York's plan regarding the lack of available services after all the suspensions, closings and consolidations. As a result, it leaves the families who rely on the social safety net provided by OPWDD wondering about the future of the system.
Nevertheless, PEF respects and appreciates the dire challenges that both the commissioner and Gov. Kathy Hochul inherited.  "We thank them for what they have tried to accomplish in their first year and look forward to working with them to continue improving the critical services provided by OPWDD," DiAntonio said.
The Assembly has posted all testimony on its website. You can watch DiAntonio's testimony here. PEF's full written testimony can be found here.