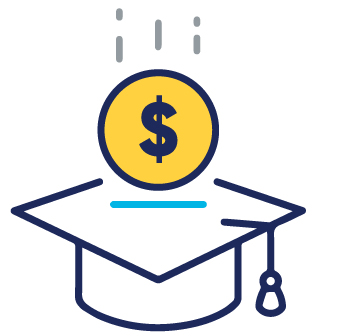 Updated October 7, 2022 — If you have federal student loan debt, look into your eligibility for the Public Service Loan Forgiveness (PSLF) program today – a limited waiver implemented last fall allows many borrowers to count previously ineligible payments toward forgiveness. 
Through October 31, 2022, you can get credit for past payments even if you did not make the payment on time; did not pay the full amount due; or you were not on the right payment plan. 
The waiver is temporary, and you must apply by October 31. Borrowers will need to submit a PSLF form — the single application used for a review of employment certification, payment counts, and processing of forgiveness — on or before that date to have previously ineligible payments counted.  
If you applied and were denied before last October, submit a new form – you may be surprised to find you are now eligible. Click here to read the stories of PEF members who have benefitted from the limited waiver. 
The PSLF applies to borrowers with Direct Loans, those who have already consolidated into the Direct Loan Program, and those with other types of federal student loans who submit a consolidation application into the Direct Loan Program while the waiver is in effect. Borrowers who need to consolidate will have to submit a consolidation application by October 31.  
Visit the online PSLF Help Tool to get started. 
PEF training sessions to help you
If you are uncertain about your eligibility or have questions, PEF is holding Zoom trainings to guide you through the program. Check your personal email for Zoom details. Reminders will be sent out each week. The remaining sessions in October are: Oct. 12 at 12 p.m., Oct. 19 at 7 p.m., and Oct. 29 at 6 p.m.
If you can't attend those dates and times, PEF's international union AFT is also offering virtual information sessions on student loan debt. Click here to register for one of those free seminars. 
Use your membership counseling benefit 
You can also take advantage of PEF Membership Benefits student loan counseling through Cambridge Counseling Services. The benefit is designed to provide a better understanding of student loan repayment options and/or debt consolidation opportunities.