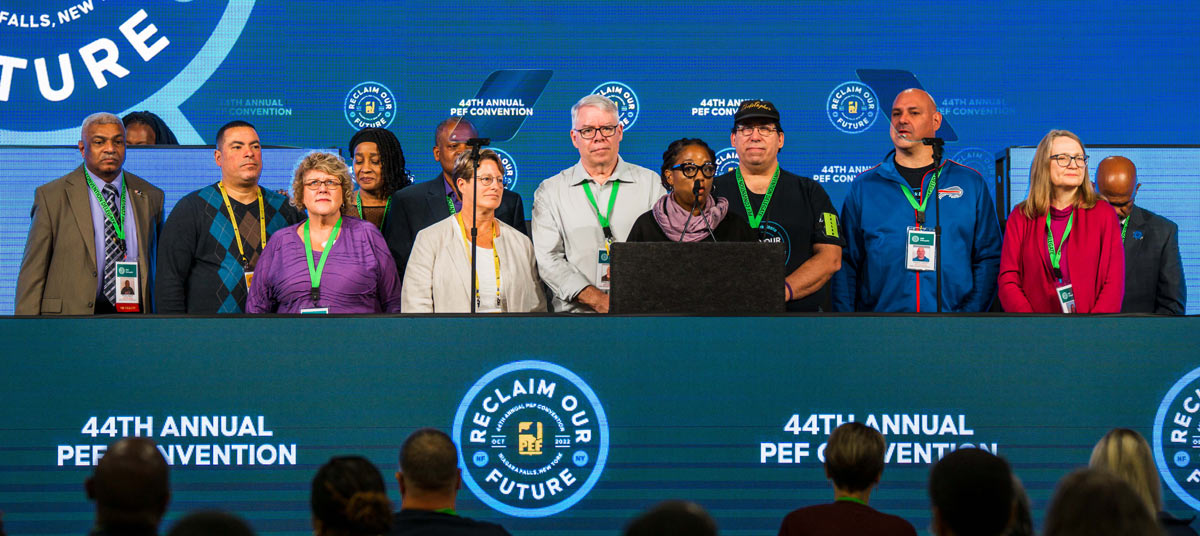 PEF's 44th Annual Convention was held October 23-26 in Niagara Falls. The weather was sunny and warm, and the delegates sailed through all their work.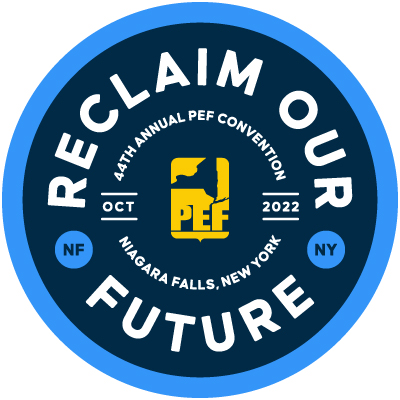 PEF President Wayne Spence, speaking from the podium at the Convention's final plenary session, said he was impressed that the delegates managed to finish their work with half an hour or so to spare. 
"Thank you for stepping on the gas," Spence told them, and numerous delegates went to the mics to thank him and Convention Committee Chair Vice President Darlene Williams for conducting such a productive and pleasant convention. 
"I want to congratulate you on a convention that was really well put together. You set the bar very high.  It was amazing!" said delegate Margaret Dobbins, a Region 4 member who works at Hutchings Psychiatric Center. 
The many events were interspersed with speakers, mostly on video messages, who brought inspiration and vows of loyal support for the union, its issues and its goals.  More than half mentioned that they grew up in union households. 
"Reclaim Our Future" was the convention theme and the more than 460 delegates were focused on it, attending the plenary sessions, workshops, departmental meetings, committee meetings, president's reception, departmental, veterans' and nurses' luncheons, health and safety breakfast, and the annual multi-cultural and other events.  They also bonded over an evening of music, karaoke and dancing. 
The delegates reviewed and voted on all 12 proposed resolutions, approved two amendments to PEF's constitution and bylaws, and set PEF's legislative priorities for both the state and federal agenda in 2023.  They heard and asked questions about reports from PEF President Spence, Secretary-Treasurer Joe Donahue and the three PEF trustees: Christopher Buman, Bruce Giddings and Muriel Hardy-Lee.  Spence said information will be shared soon with delegates via Zoom about the just-completed PEF contract survey and the Contract Team will have its first introductory meeting with state negotiators this month. 
In addition to all of that, delegates volunteered during their lunch break and after the workday to join PEF Retirees in making phone calls to union members, reminding them of how important it is for them to vote in the November 8 general election that will pick New York's governor, lieutenant governor, legislators, and representatives in the U.S. House of Representatives and one of the state's two seats in the U.S. Senate. 
Many delegates pledged to start contributing or increasing their contributions to COPE (the Committee on Political Education) that funds PEF's political actions on behalf of candidates and issues at the federal level. Three lucky members even won a pair of tickets to the Buffalo Bills game against the Cleveland Browns on Nov. 20 for starting or increasing COPE contributions.  Labor unions are barred by law from using members' dues to fund those national political activities. 
Delegates also joined PEF Staff and PEF Retirees in donating blood to the Red Cross at an on-site clinic, as well as supported breast cancer research and programs to aid victims of domestic violence.  They also contributed to PEF Region 1's annual fundraising efforts for the Judy Scanlon Memorial Scholarships that honor Scanlon, a PEF member and psychiatric case worker who was murdered by a client in 1998. 
The convention's positive spirit was capped off when delegates adopted a resolution that called for PEF to end all future conventions by playing the Ralph Chaplin classic song "Solidarity Forever."  One of the younger delegates said he had never heard the song and asked that it be played before he voted on the resolution.  The hall rang out with Pete Seeger's recording of this traditional labor standard, and the delegates voted a resounding, "Yes!"  At each Convention from now on, PEF will end with a sing-along of the 107-year-old anthem and its timeless message: "The union makes us strong!"