Rev. Terrence L. Melvin, secretary-treasurer of the New York State AFL-CIO, fired up the delegates on the floor during his keynote address at the 44th Annual Convention in Niagara Falls. 
"It's good to be here with you," he said. "It's truly humbling to be amongst such proud and successful union members. Congratulations on setting the bar for your union siblings in New York. You should be proud of what you have accomplished."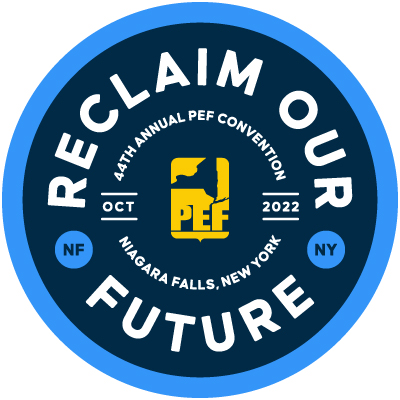 Melvin drew attention to PEF's successful fight for 2.5x overtime pay and Tier 5 and 6 pension improvements, and said these wins are just the opening salvo for the union. 
"Your theme at the Convention is Reclaim Our Future," he said. "Here, you are putting your footprints in the present. This is just the beginning, just the start, but it's a good one. We need to fight for tomorrow, today. That's our mission as true labor leaders." 
The key to a better future is fighting for the pay, benefits, and respect members deserve. 
"We cannot maintain staffing if new hires get the short end of the stick on health care and retirement," Melvin said. "New employees have no loyalty to the job when they know bosses have no loyalty to them. We have got to figure out as unions how to meet their needs. 
"It is on us to reclaim the future for future generations," he said.  
Melvin called on the delegates to get involved. 
"Our state is at a tipping point," he said. "I'm sounding the alarm. We are losing. There is no more time to talk or debate, I am here to call you to action. We need to get active, get moving, get mobilized. There is too much on the line in 2022 for working men and women." 
He urged everyone to get out and vote for strong representatives who share our values and will fight for our needs.  
"Gun violence is no joke," he said. "Your grandmother should be able to go to the grocery store, you should be able to go to your house of worship, and your kids should be able to go to school without fear," he said. "I'm sick and tired of seeing more shootings and killings that make no sense. We need common sense laws." 
Unions should also fight for women's rights, he said. "The ultra-conservative Supreme Court is no joke. Roe v. Wade is just the tip of the iceberg. They want to tell a woman what to do with her body," Melvin said. 
The way forward is unions. 
"Organize, organize, organize," he said. "This is our path to victory. When we organize, everything else will make sense. When we fight, we win freedom, equality, and liberation for our country and our nation." 
Rev. Melvin has served as secretary-treasurer of NYS AFL-CIO since 2007. He is an ordained Baptist minister and active in the Second Baptist Church in Lackawanna, N.Y. He is also the international president of the Coalition of Black Trade Unionists, where he focuses on addressing the concerns of Black workers and their communities in all 50 states and Ontario, Canada.