Nurses at the 44th PEF Convention in Niagara Falls dedicated their annual luncheon to discussing the staffing shortage plaguing their profession and learning about legal issues impacting nurses. 
Staffing woes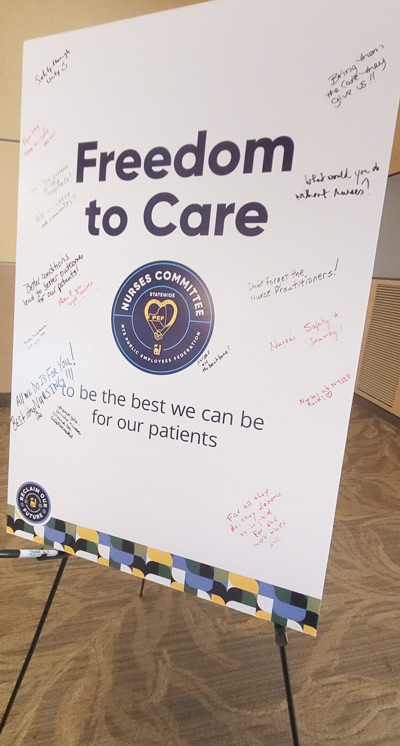 While Gov. Kathy Hochul's recent restructuring of nurse titles and increases in salary were welcome steps in the right direction, there is still a long way to go to adequately staff state agencies and hospitals. 
An aging workforce, with the average age of a nurse at 52 and a nursing professor at 56, is a major roadblock to the profession. In 2010, approximately 60,000 nurses retired; in 2020, that number rose to 70,000. An additional 5 percent left during COVID. 
"The reallocation isn't perfect," said luncheon speaker, Debbie Egel, a longtime nurse and attorney. "It's how you open the door. Then you get it to expand." 
The state's current practice of using agency and travel nurses does more harm than good, Egel said. 
"Hospitals turn to agency and travel nurses, which leads to nurses leaving institutions to be paid significantly more," she said. "This is also not sustainable for agencies. Travel nurses hurt institutions from a financial and a continuity of care perspective." 
Some ideas Egel shared to bolster nursing ranks included a switch to online and simulation education to fill the pipeline and employ critical thinking; implementing practice/academic partnerships to see if a scholarship program can be created to fund nursing students and, in return, students commit to a specified number of years in a state nursing position; and pursuing financial incentives for additional credentials and skills. 
Legal issues 
While the profession waits to see how much recent changes increase staffing, nurses continue to face mandatory overtime, burnout, and exhaustion trying to keep the people of New York healthy. Under those circumstances, mistakes can happen, and they can have huge repercussions for patients and nurses. 
"There is a difference between your license and your job," Egel said. "You can find another job, but you can't get another license. As union members, you have support to help you protect your license." 
Referencing the case of RaDonda Vaught, a former Tennessee nurse convicted of two felonies for a fatal drug error and later of criminally negligent homicide and gross neglect of an impaired adult, Egel drove the point home that mistakes can be devastating. 
"Vaught's case stands out because medical errors – even deadly ones – are generally within the purview of state medical boards and lawsuits are almost never prosecuted in criminal court," she said. "Cases can take on more than one form. A person can both break a law, rule and/or commit a legal wrong against a private individual for the same conduct." 
Some areas of criminal liability include drug diversion, billing fraud, falsifying records, patient abuse, and gross negligence; some civil liabilities include malpractice, negligence, and wrongful death; and some licensure liabilities include professional misconduct, scope of practice, documentation, abuse, and medication administration. 
"You worked a double, you're tired, you come back the next day and a family complained," Egel hypothesized. "When you go back and document in the chart, add an addendum. It looks worse to replace something. Protect your license more than you protect your job." 
How can you help yourself? 
"Mitigate your liability by filling out a Protest of Assignment (POA) form," Egel said. "If there is a malpractice suit, you lessen your legal responsibility. How can PEF advocate for you without a POA to document the issues? Please encourage everybody to fill these forms out."  
PEF members can find the POA form here. You can also protest mandatory overtime with the Mandatory Overtime for Nurses Complaint Form (MOT) found here. PEF Nurse Coordinator Nora Higgins emphasized the importance of sending the form through your personal email account. PEF can't respond to your state email. 
Egel also strongly urged nurses to take out a professional liability insurance policy.  
What do you do if you have a complaint or claim filed against your license? 
"Contact your malpractice insurance company as soon as you are aware of a potential claim," Egel said. "Do not discuss the claim with anyone. Notify your field rep at PEF. Do not sign or accept any documents." 
Nurses can contact Higgins at Nora.Higgins@pef.org or visit the nurses page on the PEF website for assistance or with questions. 
Law provides leave to work with the Red Cross

As a nurse, you know you help patients on the job, but did you know you can also volunteer with the American Red Cross and help even more – without missing any pay or jeopardizing your state job? 
"You have the skillset to be a resource in our shelters," said Red Cross volunteer recruitment specialist, Grace Wach, during the nurse's luncheon at the PEF Convention. "The New York Disaster Leave Law provides that state government employees may be released from their jobs, with supervisor approval, to volunteer for Red Cross disaster relief assignments for up to 20 days in any calendar year. You are still paid your state salary." 
The work could be taking health histories or blood pressure , for example, nothing outside the scope of practice for PEF nurses, she said.  
As a trained Red Cross volunteer with RN, LPN, APRN, NP, EMT, paramedic, MD/DO or PA credentials and an active, current, and unencumbered license, you could help your neighbors after a house fire, flooding, or severe weather events. 
Learn more about the Disaster Health Services team on the Red Cross website.