PEF President Wayne Spence told delegates at the union's 44th Annual Convention that the state of the union is strong. 
"Let me tell you, I have never felt better about where we are and where we are going," Spence said.  "This year's convention theme is 'Reclaim Our Future' because we are focusing on the fact that we need to make sure that the (state) funds for our future are spent properly.  When we advocate and fight to make sure they are – we WILL reclaim our future."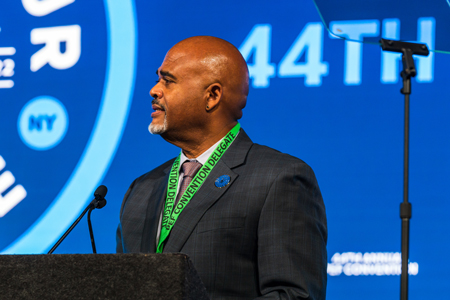 What good is it for the state to focus the public's attention and possibly its own on shiny new bridges, airports and other capital expenditures, Spence asked, if it is failing to invest in social infrastructure to reduce crime and treat mental illness? 
"New York has not invested in its own workforce.  When is that going to happen?" he wanted to know.  "We need to make sure that when they spend public funds, those funds are spent properly." 
Spence encouraged delegates to read the union's annual report, included in their convention materials, to see all the ways each PEF department has been investing members' dues in addressing members' workplace needs.  
He then spent some time highlighting major union accomplishments in the past year, starting with hazard pay for the healthcare heroes of the pandemic. 
"Listen, you can dress it up and call it a Healthcare Workforce Bonus, but everybody in this room knows what it is – it's HAZARD PAY for the health care heroes who have cared for the sick and dying since the pandemic began in 2020," said Spence about legislation signed by Gov. Hochul that pays patient-facing healthcare workers up to $3,000 for their work during the pandemic.  "And we were the only New York union that I know of that was pushing for it.  In 2020 when so many of our members were supporting the State's pandemic response –  from ITS staff setting up testing sites — to parole officers pitching in with airport security – to Department of Labor reps processing record unemployment claims — to all the nurses and doctors and social workers helping their fellow New Yorkers in need – PEF members were right there on the front lines, going to work while tens of thousands of workers stayed home.  The work was literally life-threatening – and endangered the health of your families.   And it was obvious to those of us here on this stage that if we didn't step up as a union and DEMAND the state recognize that sacrifice, all we were going to get were grateful speeches and cold pizzas." 
Spence praised the governor for asking PEF for the job titles of its members who came to work throughout the COVID-19 lockdown to provide hands-on care and services to New Yorkers who were desperately ill and in need of those services and care.   
"We submitted 300 titles," Spence said, but the governor said she only wanted 'patient-facing' titles.  "What came out, was not what we submitted." 
The PEF president gave special praise to members who are scientists at the state Health Department's Wadsworth Laboratories and who developed the first tests for COVID. 
"They started that research in January 2020 and they worked six days a week, sometimes putting in 12-hour workdays," he said.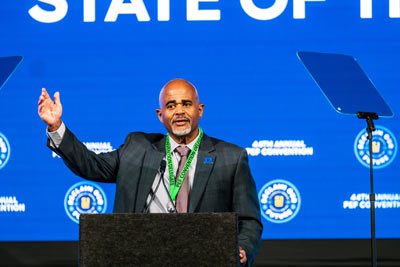 Because PEF led a relentless fight for hazardous duty pay for its members who risked their own lives to save others, nurses have received additional pay, but Spence said many more members deserve it.  

"Because of PEF leading the way – members at every other union outside of PEF with eligible titles are reaping the benefits.  Did we get it for everybody?  No.  But we're not about to turn it down.  One thing I've learned as your president — it's never all or nothing in this job.  In a union with 50,000 members and 3,000 titles, we crack open the door and then we try to push it wide open.  So, we're not done yet.  We plan to keep pushing for more titles to be added.  Because anyone who helped New Yorkers survive some of the hardest days in our state's history deserves that money." 
The president also touched on major budgetary wins for the union. 
"This was the most positive state budget I've seen as your president. There were no service cuts, no layoffs – in fact, for the first time in more than a decade, the state actually REINVESTED in its workforce, just like we asked them to in the Fund Our Future campaign material that we gave them," he said. "We provided materials to the governor's team when she addressed this body last October.  The level of accessibility that PEF now has is something that we didn't have with the former governor. We have a major seat at the table and we should be proud of that."  
Spence said this year's state budget contained many of PEF's top legislative priorities such as pension reform. A law passed this year reduces the vesting period for all current and future members in tiers 5 and 6 from 10 years to 5.   
"When we asked members to write their elected leaders in the State Senate and Assembly, they responded, big time!" said Spence.  "Thousands of you participated in letter-writing campaigns and helped convince lawmakers that the state pension plan needed changing in order to better recruit and retain skilled employees.  Along those same lines, this budget takes some major steps toward making New York a competitive employer again.  With the hiring freeze lifted, the budget included an increase of just over 3 percent in funding for state operations.  The goal is to re-grow the state workforce to pre-pandemic levels.  Conversations at various agencies have started on that topic and we will continue to advocate for hiring statewide to fill all the open positions in our bargaining unit. 
"The budget also took steps to make it easier to grow the state workforce," Spence reported.  And delegates responded appreciatively when he announced, "New Civil Service testing centers will be established at SUNY campuses so that students can more easily join state service when they graduate.  We are pushing to make those testing centers available to all, in order to help address the long-standing problem of how difficult it is in some parts of the state for civil servants to travel to a testing center." 
Spence added that it was no accident that the state budget added 100 stabilization beds at the Office of Mental Health for people with severe disabilities.  "We spoke about it at SOMOS and any chance we got.  And PEF asked for that in our Fund Our Future campaign.   And it's not an accident that SUNY hospitals received supplemental funding to serve their communities.  Sen. Zellnor Myrie was a great partner with that.  And it's not an accident that the state Office of Information Technology Services was awarded $2 million to help staff obtain technology certifications that are in demand.  PEF asked for that.  I could keep going, but I think you get the idea.  PEF is leading the way, advocating on behalf of all our members and delivering what they need." 
Spence said PEF is expanding its Fund Our Future for a Thriving New York campaign and will make it an important part of the union's contract negotiations.  PEF has hired Ron Deutsch to lead external outreach efforts to identify local, state and international partners for a broad coalition effort.    
Geographic pay and title restructuring are finally moving forward for nurses thanks to years of PEF's unflagging advocacy.  "It adds up to thousands of additional dollars for the heroes who helped us survive the pandemic," Spence said.  "We know it isn't perfect and we will continue to work with the state on this restructuring."   
He also said that negotiating a temporary overtime pay equaling 2.5 times regular pay has benefited thousands of members in hundreds of PEF job titles at the following agencies:  Department of Corrections and Community Services; the Health Department; the Office of Mental Health, the Office for People with Developmental Disabilities, Alcohol and Substance Abuse Services, and Children and Family Services, as well as the State University of New York.   
The union has also given voice to its members who are in parole jobs and who have found those jobs made much harder by Less Is More and other legislation that has weakened penalties for parole violations, Spence reported.  PEF is educating state legislators and the public on these issues.  Parole officers are also forced to work with a computer program called COMPAS that is replacing their professional judgment with an algorithm to predict how likely a parolee is to commit another crime.  PEF has received a grant from the AFL-CIO to conduct a study to find out just how good this app is at doing that job. 
PEF has greatly expanded its member engagement efforts and Spence said he led a tour by the statewide officers that reached eight of the union's 12 regions so far and will continue into 2023.  The tour has visited nearly 50 worksites and engaged with approximately 3,000 members.  "We listened, we took notes, we went back to headquarters and we took action," Spence said.  "All of the items that were brought up by our members are being addressed by field staff, organizing and others." 
PEF discussed the contract negotiations set to begin in November at those meetings and Spence said the union will reach out to the delegates via Zoom to update them. 
Meanwhile, PEF is becoming increasingly recognized as a national labor leader, Spence said.  After AFT showed a video at its convention that focused on what PEF is doing with the Fund Our Future campaign, Spence said, "AFT delegates and leaders from other locals came up to me and asked for our materials so they can do something similar in their own states.  They're all watching PEF.  They turn to us for advice and mentoring.  I was proud to send PEF staff and leaders to assist with campaigns in Colorado and California this year to help AFT and SEIU (Service Employee International Union) locals make progress in their own fights.  PEF is powerful and we're not stopping now!"