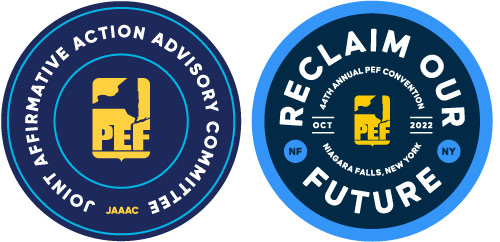 If you are being discriminating against in your state job, you don't have to stand for it.  PEF convention delegates had two chances to attend a workshop on the work of PEF's Joint Affirmative Action Advisory Committee to stand with members in that unfair and unfortunate situation. 
PEF President Wayne Spence said the union is getting a lot of complaints from its members who feel they are experiencing discrimination on the job. 
Spence credited former PEF member Glendon Griffith for raising this issue. 
Griffith was an investigator at the state Office of the Medicaid Inspector General (OMIG) in New York City, and he was one of many PEF members there who were very frustrated in 2015 about the agency's tendency to discriminate when making assignments.
"We went to the Governor's Office of Employee Relations time and time again about this," Spence said, "but GOER always denied it." 
Spence said a recent court decision finally confirmed what the PEF members at OMIG had been saying all along. 
The union serves with OER representatives on a Joint Affirmative Action Advisory Committee now, and the PEF members on that committee are stepping up to help their fellow members.  The PEF members are chaired by Vice President Sharon DeSilva and include Mohammed Chowdhury, Tamara Martin, Bellew McManus, Ade Oluwo, retiree Charles Roland, and Cheryl Wallace.  They are assisted by PEF's downstate field director, Ricardo Cruz, field representative Robert Wright and consultant Eric Josey. 
They advised members who experience discrimination to start by notifying their PEF steward, council leader or field representative who can provide a complaint form to file with the state. 
While you are not required to hire a lawyer to represent you in pressing your complaint, McManus said the state "is showing up at hearings with two or three lawyers who do this for a living." 
McManus works for the state Division of Human Rights and he said the agency will investigate your complaint, but it will not advocate for you. 
He also noted that while you can file your complaint online, "you might not understand what the Division of Human Rights thinks is important." 
You have a better chance of succeeding, he said, if you work with Eric Josey to write your complaint and to follow up on it.  You may get a finding of "probable cause."  If the finding is "no probable cause," you can challenge that. 
Josey cautioned PEF members that, "It's going to get worse before it gets better, if I get involved." 
In some cases where he is involved, Josey said the member receives a notice of discipline within a week after filing and is suspended without pay for at least eight months.   
Josey said it is important to insist on a stenographer to transcribe everything that's said at hearings because without that written documentation, you can't appeal an unfavorable decision.   
In the case he was citing, Josey said the member finally got her job back with her retroactive pay and interest. 
"Nobody is above the law," Josey said, "but you must have that written record." 
He advised members to take the time to carefully read Articles 33 and 34 of the PEF contract.  "Read the policy and understand it," Josey said.   
"Most people fail by missing the statute of limitations for filing," Josey added.  You have just 300 calendar days from the time of an incident to file a complaint with the Equal Opportunity Commission.   
—-
JAAAC Trifold: Article 36 – Helping PEF Members Fight Against Employment Discrimination Today, Tomorrow and Forever