PEF Secretary-Treasurer Joe Donahue told delegates to PEF'S 44th Annual Convention in October that he has kept a sharp eye out to ensure transparency and compliance with laws and PEF policies in conducting the union's fiscal management over the year since the 2021 convention.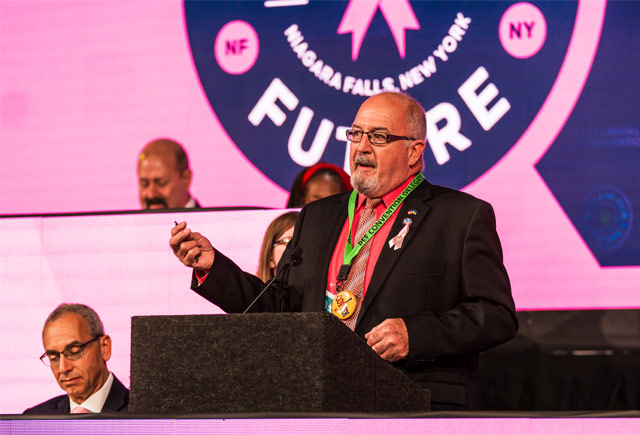 PEF is in good fiscal shape, Donahue said, and a close look at findings in the union's Consolidated Financial Statements for the end of the end of the 2021-22 fiscal year and the independent auditor's report help to show that. 
They show that PEF ended that year with net assets of $28 million — nearly $3 million higher than the previous year.    
Revenue from union dues increased, partly because members received retroactive pay increases through the contract with the state that will expire April 1, 2023.  This helped to offset the membership decrease created by the state hiring freeze that left 5,000 PEF-represented positions vacant.  That freeze has now been lifted. 
The increased income and restrained spending have allowed the union to invest $750,000 in securities, Donahue reported. 
"As always, I will continue to work with PEF's Finance Department to clarify policy, and ensure adherence by all members, so that we are able to maintain the levels of representation that our members deserve." 
Donahue answered delegates' questions about specific financial issues such as the average dues per member.  Donahue estimated it to be about $800 per year. In response to another question, he said it generally takes about a month to begin receiving dues from new members. And he noted the PEF Membership Benefits Program is a separate entity that has approximately $20 million in assets.