October 17, 2022 — As part of one of the largest recoveries for a single worker in the history of the New York State Department of Labor (NYSDOL), PEF member Shaun Abrilz played a role in returning $271,527 in wages to a domestic worker who was chronically underpaid for three years.
The victim was hired as a domestic worker and companion for an elderly woman in Brooklyn. Her duties included bathing, changing, and feeding the woman, as well as performing cleaning duties, laundry and many other household tasks. On average, the victim worked 115 hours per week from 2015 to 2018 and was paid $260 a week.
The historic wage recovery stands as a testament to the importance of the work done by NYSDOL. Abrilz is a Senior Labor Standards Investigator in the Division of Labor Standards and a PEF member for nine years.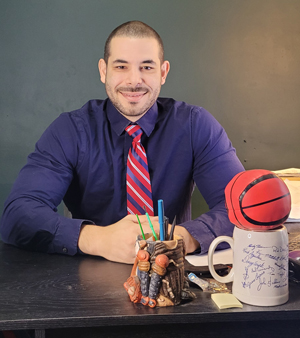 "This will change her life," he said of the domestic worker. "We worked on it for a few years, and it took a lot of back and forth with attorneys to finally get her paid. She was very, very grateful. I feel like we actually did make a difference for her."
The Division of Labor Standards never has a shortage of work, with investigators routinely handling 150 cases each.
"We get a little over 10,000 claims for the state overall each year," Abrilz said. "We investigate claims where people are not getting meal breaks, not getting paid tips, not getting overtime pay, aren't getting paid minimum wage, child labor issues. We collect millions of dollars each year."
When Abrilz began working at NYSDOL, he was out in the field, visiting employers as part of a field unit. Now, as a Senior Investigator, he does more of his work via phone, but he still interacts with claimants, and he sees firsthand how much his work means to them.
"It's a chance to do something different," he said. "I feel like I'm giving back and at the end of the day, I feel that I'm making a difference in people's lives. If you are making minimum wage, you absolutely need every paycheck. You can hear their frustration and sometimes desperation when they are trying to get their wages and they feel they've been exploited."
While some cases are a single claimant against a small employer, Abrilz said NYSDOL also takes on multiple claimants and large corporations, such as Walmart and Target. The department recently recovered $191,000 in unpaid wages for 93 employees working at the Buffalo-based company, Magellan Technology/Demand Vape.
"If people aren't getting paid correctly, they should reach out," he said. "You don't have to be exposed, we have a retaliation division to make sure that people aren't getting intimidated or retaliated against for reporting a claim."
The Division of Labor Standards also investigates and collects unpaid benefits, such as wage supplements, which includes vacation/holiday pay, paid sick leave, expense reimbursement, and more.
For more information, including how to file a claim, click here.