The PEF Veterans Committee upheld its tradition of holding a veterans' luncheon at the union's annual convention.
The event was hosted by committee member Bruce Jagroop, since Committee Chair Latonia Taylor was serving active military duty.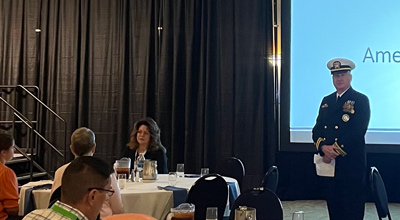 Delegate Ali Muhsen, a U.S. Air Force retiree and chaplain at Auburn Correctional Facility, gave the benediction.
As usual, the committee set a separate table for one in honor of the service members still missing in action. Mike Favata, who retired from the U.S. Navy with the rank of Lieutenant Commander and now works as PEF's Special Events coordinator, appeared in uniform to read a poem about the tragic loss of members of the military in service.
The poem noted that shipmates stood their watch no matter what challenges their ship encountered, and Favata ended it saying, "as we say in the Navy, 'Shipmates, the watch stands relieved.'"
PEF President Wayne Spence attended the luncheon and had high praise for Favata and how fortunate PEF is to have him serving the union.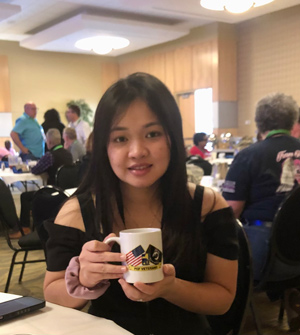 Spence said a PEF staff member recently lost a nephew who left military service with PTSD and then took his own life.  The tragedy drove home the importance of honoring, respecting and supporting this nation's military veterans, he said.
We must "never turn our backs on our veterans," Spence said.
Two representatives of the Red Cross were guest speakers at the luncheon, and they spoke about the important role the Red Cross plays as a liaison between the families of military veterans and the various military commands.  They also spoke about the very important work that military retirees and others do as Red Cross volunteers who help them respond to every kind of disaster.  Their group, based in western New York, serves 2.8 million people and volunteers provide 98 percent of the work.
"Everyone has something to share," Red Cross representative Grace Wach told the delegates. "We are always looking for volunteer support.  There's a place for everyone."
Wach and the other Red Cross representative said that under the state Disaster Leave Law PEF members can get up to 20 days of paid leave to serve as Red Cross volunteer responders to disasters.
Delegate Richard Fletcher, who is also a military veteran, said he has volunteered with the Red Cross many times, responding to disasters this year in Louisiana, Nevada, California, and here in New York state in Buffalo and Binghamton.
"The Red Cross works just like the military.  They have a great structure," Fletcher said.
If you would like to volunteer, email grace.wach@redcross.org or visit www.redcross.org/volunteertoday online.