PEF regions throughout the state are holding meetings with their convention delegates to prepare for the event that begins October 23 in Niagara Falls.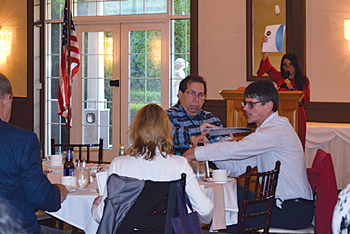 Region 8 held its annual delegate dinner Tuesday night, October 11, at the Italian American Community Center in Albany.  Regional Coordinator Danielle Bridger started by telling the 87 delegates in attendance, "This is a training meeting," and that training would be the main focus rather than discussing at length every one of the twelve resolutions that members have submitted for debate and action at the convention.
The resolutions address topics including civil service, hostile work environments, mid-term changes to Executive Board constituencies, single-payer health insurance and assignment of members to divisions.
PEF Finance Director Ray Brown provided training on how the delegates should use their convention stipends for meals, how to submit claims for reimbursement of receipted expenses at convention and mileage if they drive to convention.
Membership Benefits Program Administrator Stephanie McLean-Beathley told the delegates about some of the special events and efforts that will be featured at convention, such as raising funds and awareness for breast cancer and for domestic violence.  She also said that MBP and PEF leaders will reach out to the community in nearby Buffalo affected by the tragic mass shooting that took place last spring at a local supermarket.
The delegates also received information and training regarding convention procedures.