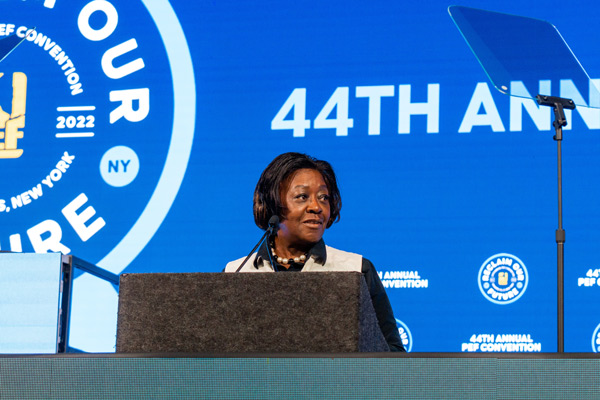 New York State Assembly Majority Leader Crystal D. Peoples-Stokes praised PEF members for the work they do and the hope they bring to the future. 
"I believe in public service," she said. "This is how we move forward. We have a responsibility to deliver a service. We are public servants, not servants of ourselves." 
Peoples-Stokes has represented Buffalo's 141st Assembly District since 2003 and comes from a union household, the daughter of a schoolteacher and a sanitation worker.  
She is known as a strong advocate who puts people and principle before politics; fights for diversity; and has dedicated herself to ensuring minority and women-owned businesses have a fair chance to obtain state contracts.  
"Reclaim the future," she said, in reference to PEF's Convention theme. "It will be an inclusive future where everybody gets the best services. Thank you in advance for reclaiming our future."