October 13, 2022 — Fall is here and another election is right around the corner – less than a month away. There is also some good news about this year's Social Security COLA.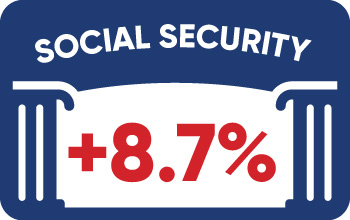 Social Security's Cost-of-Living Adjustment increase is expected to be 8.7%. That would make it the largest in four decades.
The 2023 COLA will provide a considerable boost to all of the 70 million Americans who rely on their earned Social Security benefits.
"The expected COLA will be an enormous help, but it is not enough. Congress could increase benefits even further by passing H.R. 5723, 'Social Security 2100: A Sacred Trust,' which was introduced by Rep. John Larson (CT), or the Social Security Expansion Act, S. 4365, introduced by Sen. Bernie Sanders (VT).  Both of these bills make the wealthiest Americans pay their fair share," said Joseph Peters, Jr., secretary-treasurer of the Alliance for Retired Americans. "By removing the artificial earnings cap that is currently $147,000 per year, we could strengthen the Social Security Trust Fund while providing all retirees with increased benefits."
That cap is expected to increase to $155,100 for 2023, according to an annual report released by the Social Security Board of Trustees on June 2.
Social Security expansion bills supported by most retiree organizations including PEF Retirees also require COLAs to be based on the CPI-E, the Consumer Price Index for the Elderly. The CPI-E reflects health care and housing costs, items that seniors actually spend their money on – a change that would result in fairer COLAs every year, not just every few decades.
As part of our mission, the PEF Retirees work to educate our members about the critical issues and other issues which will enhance their retirement.  We need to educate ourselves on the issues that affect retirees.
Some politicians in Washington talk about Social Security and Medicare like they are handouts. These are politicians who support special interests whose agenda is hostile to seniors.  Congressional representatives who wonder aloud if you really deserve those benefits. They look to Social Security and Medicare funds as easy cuts to pay down deficits and fund tax cuts for the wealthy.  But you paid for those benefits-with your hard work and your work over decades.
We have to make sure politicians know it.  If you don't speak up, your benefits could go down.  We may love or hate politics but, however you feel, politics are an integral part of our lives. It is better to do what we can to keep and improve our situation as retirees.
We ask that you stay engaged and informed.  This election year will be a pivotal year with each of us having an obligation to participate.  Know the issues and make sure you vote for the candidates who are right on retirees issues.
Whatever you do, don't vote against your economic security. You earned and deserve retirement with a pension and affordable health care.
A fair increase in the Social Security COLA is in our economic interest as retirees.
Please vote, it is not only your right but also your responsibility.