Top union leaders, including SEIU President Mary Kay Henry and AFT President Randi Weingarten, and federal and state legislators and officials, including New York Attorney General Leticia James, sent virtual greetings and thanks to PEF delegates at the 44th Annual Convention in Niagara Falls.  
You can view these videos, and more, on the PEF website here. 
Mary Kay Henry: PEF is leading the way and scoring wins for its members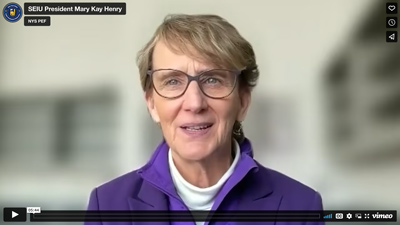 The president of SEIU, one of PEF's parent unions, expressed gratitude for the work of PEF members and highlighted recent legislative and state budgets wins the union scored in a video to delegates.  
"I am so proud of the work PEF does and I want to give special thanks and recognition to members who have worked so hard through the pandemic," said President Mary Kay Henry. "Public employees came to work every day during a global pandemic for the greater good, protecting and helping our most vulnerable residents. For this I, and especially the New York residents, are very, very grateful."  
Henry said PEF remains an important voice in New York.   
"In the state budget and legislative process, you play a unique and important role," she said. "As an example, for this year's budget cycle, PEF was successful in securing several priority items, including a healthcare and mental hygiene workforce bonus program and the first significant reforms to Tier 5 and 6 retirement plans since their inception."  
That work helped funnel much needed financial support to SUNY hospitals and increased the number of psychiatric stabilization beds operated by the state, she said. Henry said PEF's Fund Our Future campaign has also made waves.  
"PEF's role as a model local to SEIU was highlighted in a variety of events and activities," she said. "Fund Our Future has been a leading voice for reshaping government in our public interest because you understand to have a functioning democracy we need to fund, support and empower the essential work of public employees who deliver the services we all use every day, from public education to affordable healthcare, transportation and safe streets, green spaces and so much more."  
Union drives are taking the country by storm this year as employees take on big corporations and hold politicians accountable to campaign promises. And unions are standing strong on issues important to their members.  
"Together we are fighting back against corporate interests that would shred quality public services," Henry said. "We aren't letting them divide us as they drive down wages and use race to divide us from each other and limit our power. Now, when workers are exerting their power like we haven't seen in years, going on strike, quitting bad jobs in record numbers, winning historic contract victories, insisting on a racial reckoning, calling on elected officials to show us which side are they on: We have to be prepared to take advantage of the moment. We must make a major breakthrough on unions for all."  
Election Day is the time to do it, she said.  
"On November 8, we are taking our shared power to the polls," she said. "We will turn out in record numbers in this midterm election to elect leaders who will stand with working people instead of big corporations. SEIU is running the largest midterm field program in our union's history. We are working to mobilize our two million members in every state they work and live.   
"Our vote is not just a show of support. It is a demand," she continued. "Together, we are building a positive future for all of New York state and for workers across the nation. Uniting them to demand that everyone be able to join together in unions and participate fully in our democracy." 
Weingarten: Unions work for a better life for all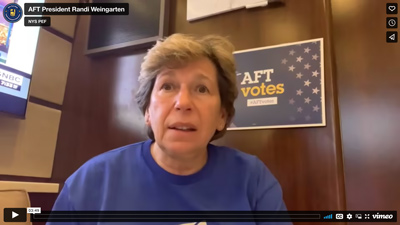 AFT President Randi Weingarten took time out of her busy bus tour ahead of the November 8 election to address PEF delegates in a video message.  
"I want to take the opportunity to thank you, not only as the AFT president, but as a New York state resident, for the work you do every day," she said. "Whether you are protecting the environment, ensuring the health of our citizens and the people who live in our state, supporting the justice system, caring for kids, sustaining our infrastructure, helping our elderly, protecting our public revenue or ensuring fair pay in New York for New Yorkers — your work is critical for all New Yorkers."  
She applauded PEF for standing behind and standing for its members.  
"PEF's advocacy for the people who do all this work is critical," she said. "Fighting for a voice, for respect and safety on the job, and fighting for the pay and benefits PEF members rightly deserve. Look at the recent win on nurse title structuring, which will help with recruitment and retention challenges. You were able to deliver. For years we've been trying."  
As president of the 1.7 million strong union, one of PEF's international parent unions, Weingarten assured the delegates that AFT would always stand in solidarity with them.   
"I want to make sure you know, we stand up with and for PEF," she said. "We fight for opportunities for a better life for all. One of the most important ways to create a better life for all is the work our union does and part of what our union does is working on elections."  
She urged voters to show up to the polls and elect strong, labor-friendly representatives.  
"There are many polarizing issues facing this country, but we're united, we, all of us, on one front," she said. "We want better lives for ourselves and those we care for. That's what the union movement is about. And that will come by growing the economy, creating good jobs, protecting the right to join a union, ensuring people have great public schools, ensuring they have great health care and a voice in the democracy."  
Delgado: State's top execs stand with PEF; support unions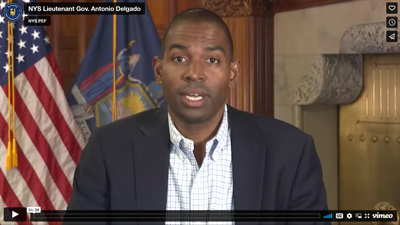 Lt. Gov. Antonio Delgado thanked and vowed support for PEF members and their issues during his video address to the delegates at Convention.  
"Our state's public workforce has been stressed to the limits over the past few years as we fought COVID-19," he said. "Our public agencies not only had to maintain a high level of services, but also do so in the face of extraordinary challenges. It certainly has not been easy and at times it may have felt thankless, but what's been accomplished is amazing."  
Delgado said he and Gov. Kathy Hochul answered when PEF asked for help for its members.  
"You asked the governor to support nurses and she did, providing two and a half times overtime pay for nurses, LPNs, medical assistants and other eligible staff last year. And just last week the governor announced a series of pay increases for nursing positions within New York state agencies to help improve recruitment and retention among the state's healthcare workforce. We will continue to deliver for your 50,000-plus members."  
Unions are the way of the future and protecting that right is vital to our future, Delgado said.   
"I wholeheartedly stand with labor," he said. "We have got to protect collective bargaining and the right to organize, and we've got to protect you, our workforce. We are grateful for all that you do for the people of our state."   
AG James: Meaningful action today to ensure a better future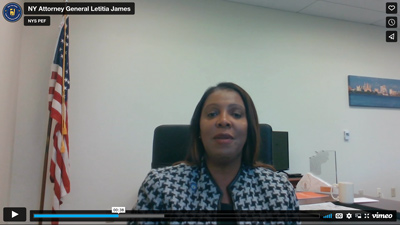 New York Attorney General Leticia James addressed the delegates by video, thanking them for their hard work and dedication as public servants.  
"I thank the members of this great union," she said. "I am not just the attorney general of New York state, I am a New Yorker. Like millions of other New Yorkers, I benefit from the hard work and heroism of the 50,000-strong PEF members.  
"Throughout this pandemic you kept our state working," she said. "New Yorkers were scared and relied upon government support and that means we needed you and your professionalism. You certainly led the way. You showed up for us and we have a responsibility to show up for you and support this incredible union."  
James is the first woman of color to hold statewide office in New York and the first woman to be elected attorney general. She said it is time to take meaningful action to ensure an equitable future for the next generation of New Yorkers.  
"That means funding the government we need, supporting a strong unionized workforce, and ensuring we can address the crises of the future," she said. "Let's ensure we build up the state workforce. Let's ensure our state workers have the training and benefits and safe working conditions that you deserve and let's ensure that New Yorkers get the very best public service because of the strongest public workforce.  
"But most importantly, let's respect the workforce," she said. "Together we can build a stronger state for all because we have a strong public workforce. Thank you, PEF, for all you are doing."  
Sen. Schumer: We've accomplished a lot; more to be done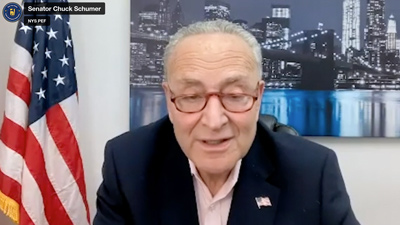 U.S. Senate Majority Leader Chuck Schumer greeted PEF delegates via video and thanked them for their work during the pandemic and promised to continue the fight for public employees.  
"During these past few years of the pandemic PEF members have really distinguished themselves as true American heroes," Schumer said. "I know that recognition can be fleeting. Maybe it lasts just until the next crisis comes along or maybe until the next contract negotiation. But I promise you I will never, ever forget the work that you've done through the pandemic and continue to do every day."  
Schumer said he fought for COVID aid to protect state employees from layoffs during the fiscal crisis the pandemic created. He is known for protecting the middle class and those working to reach it by finding common sense solutions to national issues.  
"Remember when the state was threatening to lay off state employees?" he asked. "Well, it never happened because I was able to pump billions of dollars into the state and local government coffers and stave those cuts off. That's something I'm really proud of."  
He lauded President Biden's efforts on student loan forgiveness, his role in the proposal, and the need to continue the work of the people.  
"It's going to help millions of working people," he said. "We've done so much together these past few years, but we are all aware, there's a lot more to accomplish. I promise you all I will continue to fight with you for our great state employees and working families each and every day."