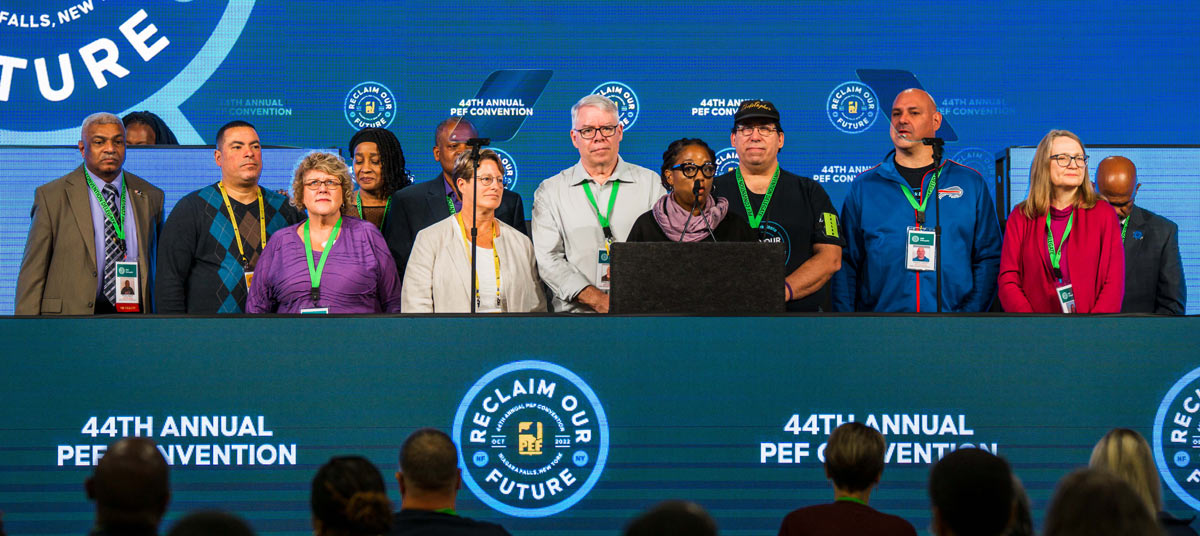 While the current 2019-2023 contract between PEF and the state does not expire until April 1, 2023, the union just opened negotiations on our next contract for the Professional, Scientific and Technical (PS&T) bargaining unit. 
Some of the PEF members and staff on that negotiating team have served on previous contract teams and others are newcomers.  They were appointed by PEF President Wayne Spence and many of the team members accompanied him as he toured the state in recent months meeting with members at or near their worksites.  The team also has been undergoing training for months, reviewing the information members provided in a contract survey and hammering out the union's bargaining demands.   
Once again, nationally recognized labor negotiator Mark Richard is PEF's chief negotiator for this contract.  He will be assisted by PEF Director of Contract Administration Debra Greenberg along with PEF associate counsel Ed Aluck and other staff as needed.  
The PEF Contract Team is chaired by Vice President Darlene Williams and includes Scarlett Ahmed, Vincent Cicatello, Conrad Davis, Christopher Ford, William Holthausen, Maureen Kozakiewicz, Jeanette Santos and Cynthia Walker.  They work across the state in a variety of agencies including the departments of Health, Labor, Motor Vehicles, and Taxation and Finance, as well as the state offices of Information Technology Services and Mental Health.  A member from SUNY Downstate Medical Center also is on the team.  The contract the team negotiates will include some provisions uniquely applicable to members at Roswell Park Comprehensive Cancer Center in Buffalo and the state Schools for the Deaf and for the Blind. The Roswell team includes: Region 1 Coordinator Michele Silsby, Bruce Jagroop, Jordan Blatz and Theresa Burke. The Schools team includes William Wiley and Gloria Broadbent for the School for the Deaf; and Cathy Sawyer for the School for the Blind.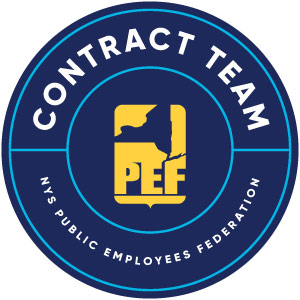 Here's some additional information about some of the team and what they have to say about their role: 
PEF VP Darlene Williams chaired the team that negotiated the current contract.  She served as the union's Region 10 coordinator before being elected a vice president of the union in 2021.  She is an occupational therapy assistant 2 at the New York Psychiatric Institute in Manhattan.  "I've learned a lot from the last contract and I've learned a lot from talking to members during the leadership tours," she said. "I feel like these things showed me where the members are and will help immensely in our negotiations for a fair contract." 
Scarlett Ahmed is a member of the PEF Executive Board and council leader of PEF Division 245 at the state Labor Department in Queens, where she is a supervising labor services representative.  She also chairs both PEF's Statewide Women's Committee and the joint Special Committee on Hourly Employees. "I'm honored to be part of the contract team, fighting collectively for an agreement that promotes the public good and honors the dedication, experience, and brilliance of the state workforce," said Ahmed. "PEF DOES IT!"  
Ed Aluck is an associate counsel with the PEF Contract Administration Department and has worked at PEF for approximately 23 years.  "I enjoy my role in working with and providing support to the team members, training them on the various contract articles, and seeing how their diverse experience with PEF allows them to help the team come together to negotiate the best contract possible for the union's members." 
Vincent Cicatello is a member of the PEF Executive Board and is a council leader at Division 180, Buffalo Psychiatric Center. He is a psychiatric nurse 3 and a member of the PEF Statewide Nurses Committee. "I am extremely honored to be named to the PEF Contract team. I have worked for the state Office of Mental Health for 23 years and have been a nurse since 2005," said Cicatello. "My goal is to contribute as much as possible to see that we PEF members get the fair and good contract that we deserve. During the pandemic and lockdown, I and thousands of PEF members showed up to work every day to serve the citizens of New York, while doing our best to keep them safe from COVID-19 and deliver much needed services to the community. It's an absolute pleasure to represent the nurses, health care workers and all members of PEF." 
Ricardo Cruz is PEF's downstate director for field services. Prior to taking his current position, he was a state employee for approximately 23 years and a PEF member for 13 of those years. During that time, he served as PEF Region 10 coordinator, a steward, division council leader, co-chair of a statewide labor-management committee and of the Article 46 Joint Law Enforcement Committee.  In addition, he was a trustee of the Membership Benefits Program.  Cruz said, "Having been a PEF member and now a staff person, I have been uniquely exposed to the challenges that our members and the union face. I hope to use this experience to provide insight to the Contract Team in our quest to deliver the best contract to PEF members. Only by working together, will we be successful." 
Conrad Davis is a PEF Executive Board member and is council leader of PEF Division 406.  He is a tax auditor 1 at the state Department of Taxation and Finance in Brooklyn and chairs the joint labor-management committee at the department.  He served on the Contract Team during the last round of negotiations as well. 
Christopher Ford is a PEF Executive Board member and council leader of PEF Division 357.  He is a manager of information technology services 1 at the state Office of Information Technology Services in Albany.  He has worked for the state since 1992 and now manages the Shared Application Services Mobile Development and Support team.  He earned Project Management Professional (PMP) certification in 2010, and continues to serve on committees for the local chapter of the Project Management Institute (PMI). 
Debra Greenberg is PEF's director of Contract Administration.  She first became involved in the labor movement as a co-president of a Legal Aid Society staff union many years ago.  Greenberg worked for a small labor and employment firm in NY City before coming to work for PEF, where she has served for more than 16 years in the Legal, Field Services and Contract Administration Departments.  "I feel truly blessed to have the opportunity to work again with Contract Team Chair Darlene Williams and a phenomenal Contract Team in this round of negotiations.  I appreciate the trust put in me to assist the team in bargaining and problem-solving with our state counterparts, as we seek to improve the working lives and benefits of our diverse PEF membership.  Getting to "yes" on matters that members have told us are important can be a hard process, but there is hardly anything more rewarding in this line of work."  
William Holthausen was recently elected PEF Region 12 coordinator, and previously served on the PEF Executive Board and as council leader of PEF Division 170 at the state Transportation Department, where he is an assistant engineer. "I am proud to be a member of this negotiating team," he said, "and I look forward to tackling the issues that affect us. We are focused on returning a good contract that addresses our members' needs and will carry us forward. PEF members work hard and deserve a contract that acknowledges it. We will strive to get it: through our negotiations, through our work and through our actions." 
Maureen Kozakiewicz is a PEF Executive Board member. A highway safety program analyst 2 at the state Department of Motor Vehicles, she is assigned to the Governor's Traffic Safety Committee.  She has 34 years of state service and has been the council leader of PEF Division 211.  Currently she is both the PEF chair of the DMV joint labor-management committee and the DMV joint health and safety committee. In addition, Kozakiewicz serves on the PEF Ethics Committee and chaired the PEF Delegates Election Committee.  "I proudly serve on the contract team. With input from members and in a post-pandemic world, our contract team is defining our 'next normal' contract environment as 'back-to-normal' does not exist," said Kozakiewicz.  "It's our challenge and our privilege to be part of this contract team to represent all PEF members." 
Jeanette Santos is a trustee of the Membership Benefits Program and a former PEF trustee. She has chaired PEF's statewide women's committee.  Santos is a steward and former council leader of PEF Division 205 at the state Health Department in Albany, where she is a medical assistance specialist 2.  Santos has served as PEF chair of the DOH joint labor-management, health and safety, and grievance committees.  She is an active member of the PEF Region 8 Political Action Committee and the PEF Pride Committee.  "As a member of the contract team, I am fully committed and dedicated to negotiating the best possible contract for our members," Santos said. 
Cynthia Walker is a teaching and research center nurse 2 at SUNY Downstate Medical Center, where she works in the Adult Cardiac Progressive Care/Stepdown Unit.  She is secretary of PEF Division 198 at the center, which is located in Brooklyn.  "As a member of the contract team, I have an opportunity to advocate for our members to get the best contract," she said. "Our members continue to face challenges and daily exposure to viruses such as COVID and other communicable diseases.  In order to recruit and retain employees in state service, we must protect our members' health and safety, and the state must provide competitive incentives." 
In the end, the Contract belongs to the PEF membership.  An active and engaged membership gives the Contract Team power at the bargaining table.  Nearly 10,000 members took part in the Contract Survey last month and others have made their priorities known through union meetings and by sending email to the team at contract2022suggestions@pef.org.  As the negotiations continue, be on the lookout for emails and social media posts inviting you to show your solidarity with the team as they work toward delivering the fair contract PEF members deserve!