Persistence is paying off for PEF members who work at 55 Hanson Place in Brooklyn, where renovations to the state office building have forced staff to work in cold, noise, dust, and disarray, and where fire safety plan deficiencies prompted members to call for change. 
PEF members Vivian Falto, Angelina Rodriguez-Billingsley, George Howard, and Michael Marquez work at different agencies, but they joined forces to get the state to start addressing their concerns. 
Cold, noise, and dust 
One of the most visible issues at 55 Hanson is the ongoing construction. 
"My office came back after COVID to a site under construction," said Falto, who works for the New York State Education Department (SED) and was one of the first to sound an alarm about the poor conditions in the building. "Our offices were dirty and dusty. They were replacing windows in January. It was the middle of winter." 
Falto and her members are some of the lucky ones – they were able to telecommute for a while. Other offices within the building weren't so lucky. 
"On my floor, there was never telecommuting," said Rodriguez-Billingsley, who also works for SED. "We had to work in the cold. People got sick. We worked by windows that got removed. There was dust and debris, now there are loud vibration noises, and we don't know what day they are going to be drilling. 
"We informed management that people are getting headaches from the noise," she said. "It's interrupting their jobs. Our clients with disabilities, we don't know what is going to trigger these individuals. We need to come up with a plan to address that." 
While they have made some headway, those conditions persist, and the fight continues for Rodriguez-Billingsley and the members on her floor. 
ITS member George Howard also came into the office throughout the pandemic. 
"In the past, they would clear out a floor, move you, get that floor done," he said. "Instead, they are going section by section and replacing all the windows and renovating the whole building.  
"I was working with someone in Ag and Markets during COVID and they asked, 'Why is this program coming into this construction site?'" he recalled. "It's so bad they had to have space heaters. I kept telling people what's going on here doesn't make sense." 
The state was also conducting asbestos abatement at the site, Howard said. Seeing workers in full personal protective gear had members concerned.  
"We didn't know clearly about that until we complained," he said. It wasn't until after those complaints that the state posted asbestos abatement notices around the building.  
It was a discussion between Howard and PEF Executive Board member Jose Medina from the Department of Labor (DOL) that drew in Michael Marquez, a safety and health inspector for DOL's Public Employees Safety and Health (PESH) division. 
Marquez serves as co-chair of his health and safety committee and since January 2021 has been informing management about numerous fire safety issues at DOL. He was told he was "nitpicking too much" – but his concerns were validated when a fire broke out at 9 Bond Street, Brooklyn, and displaced members, destroyed offices, and disrupted DOL services. 
"Management neglected local emergency action plans for years," Marquez said. "They didn't put a high enough emphasis on this stuff. Had they implemented an updated emergency action plan and training for staff, that fire could have been prevented. It didn't need to happen." 
Marquez said many of the agency's action plans were so outdated, they still listed security officers who had retired or even passed away. 
Staff displaced by the fire were shifted to 55 Hanson, which is how Marquez ended up joining the fight to bring that building's fire safety in line with standards.  
An impact on clients 
Falto said the problems don't just impact staff. Clients coming into her offices are disabled and it's never clear how they will react to the construction projects. 
"It's not only about us as PEF members," Falto said. "If I have a person with me, how do I get that person out of the building safely in an emergency? Most of our cleaning crew members are disabled. If I don't know how to get out in an emergency, how will they?" 
Rodriguez-Billingsley echoed her sentiments. 
"Every client in our office has a disability," she said. "There is no fire drill in place for disabled participants. People with wheelchairs, people who are deaf and can't hear the alarm. There is no plan for people with disabilities on our second floor." 
Coming together for change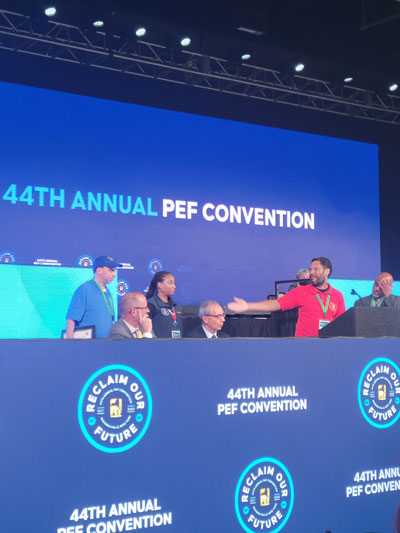 Falto said it wasn't until members banded together that progress was made. 
"PEF is a member-driven union," she said. "The beauty of this is that we took charge and joined forces before we sought assistance from PEF leadership. We said we need to make this right. When we didn't get answers, we went to the highest level of the union and said we need help." 
PEF's top officers made it a priority to stop at 55 Hanson during the Statewide Officers Tour. President Wayne Spence toured the facility, saw the conditions, and talked with local leaders and members. 
"They made it happen," said PEF Vice President Darlene Williams said of Falto, Rodriguez-Billingsley, Marquez and Howard. "Nothing would have changed without those heroes." She publicly recognized the four leaders on stage at the annual PEF Convention in Niagara Falls on Oct. 26. "I'm so proud they didn't just say, 'Let others do the work.'" She also commended PEF Organizer Lisa Pinkard-Adams and Region 11 Coordinator Bernadette O'Connor for attending the first meeting with impacted members and helping organize health and safety walkthroughs of the building.
Howard urged people to speak up about issues at their worksite. 
"Keep talking to people about the issues," he said. "Don't give up. Get the message out. We need all the agencies and unions to work together to solve the problem. Me alone as the local steward couldn't solve the problem." 
For Marquez, bringing up the issues at his health and safety committee prompted his CSEA counterpart to start filing complaints of her own. 
"Not only was management getting it from PEF, but they started to get it from CSEA too," he said. "They felt empowered after all these issues were brought up." Marquez said even those staff who don't have health and safety in their job descriptions are starting to speak up. "Now we are building a larger coalition to deal with this." 
Rodriguez-Billingsley said no issue is too small. 
"A little headache they may see as nothing, but down the line it might be," she said. "The first thing to do is fill out an incident report form. Let your council leader, shop steward, and PEF field representative know what's going on. Even if a member doesn't want to personally pursue it further, it's very important to document what is going on. 
"Working as a team made a difference," she said. "It made us powerful. We didn't get everything we wanted right away, but they are slowly remedying things." 
Documenting issues, filing complaints 
PEF Health and Safety staff visited 55 Hanson for a walk-through on October 4, inspecting eight of the building's 13 floors and noting that three floors were currently closed for renovations and window installation was ongoing on others. 
Among the concerns identified were fire extinguisher inspections, fire safety plans, standpipe inspections, fire hose inspections, egress routes, construction, indoor air quality, temperature, missing or damaged ceiling tiles, dust and debris, and more. 
PEF filed a PESH complaint over egress concerns and an inaccessible fire extinguisher on the second floor. The union then provided members with a full report of concerns for use at labor/management and health and safety meetings. 
PEF's Health and Safety staff are a resource for members and leaders in the worksite. Email them at healthandsafety@pef.org. 
"Health and safety is not negotiable," Falto said. "You can make a difference."