This is the first in a series of Q&As with Union leaders across the state. If you have a suggestion for a profile, please email communicator@pef.org.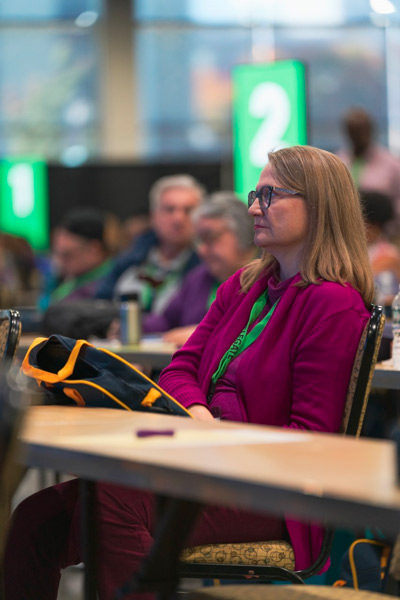 How long have you been a PEF member? 
I've been a PEF member since May 1, 2008 (May Day), when I started with the New York State Department of Labor (DOL). I asked a lot of pain-in-the-neck questions at PEF membership meetings, so the Council Leader, Ron Goldstein, encouraged me to become a Steward. Occupy Wall Street happened practically outside my office window — another inspiration to run for Steward and become an activist.   
What positions do you hold in PEF? 
I am the PEF chair of our statewide Labor-Management committee for DOL. At the height of the pandemic, the committee convened every two weeks, because there were so many concerns about telecommuting and health and safety issues. Now we are back to quarterly meetings, thank goodness. I also serve as chair for PEF's statewide Women's Committee. We had a lot of activities during Women's History Month, including a forum with women leaders such as Attorney General Tish James. I helped draft the committee's bylaws, because we didn't have any, and I drafted a 2022 Convention resolution in support of reproductive rights, modeled after AFT's recent resolution. I also drafted a statement about the overturn of Roe v. Wade that PEF President Wayne Spence and other PEF leaders co-signed. It was considered a somewhat "radical" statement. I'm glad that many others signed on, but also alarmed that women's rights are considered too radical or irrelevant by some union members. We need to work on that. 
I chair a special joint committee on hourly and temporary state employees, a special interest of mine because many of my colleagues are hourly and they are not paid the same as others for doing the same work. That fundamental unfairness bothers me as a union leader. I want to win justice for them by any means necessary.  
I have a lot of other PEF titles as well.  As a PEF Council Leader representing NYC DOL folks, I help organize local labor-management committee and health and safety committee work, although our division is lucky to have two great local Stewards who chair those committees, Michelle Maldonado and Michael Marquez, not to mention our terrific PEF Field Representative Robert Wright. I am a member of PEF's Executive Board, representing a turf that stretches from Long Island to Albany. I attend quarterly meetings in Albany. I was also just appointed by President Spence to AFT's Human Rights Committee. Plus, I am also on PEF's contract bargaining team.   
Briefly summarize what you do for the people of New York. 
At DOL, I started as a Labor Services Representative at the downtown Manhattan Career Center in New York City in 2008. Now I am a Supervising Labor Services Representative at a Career Center in Queens. Jobseekers report to our office for help looking for work and training opportunities. They are usually required to report while collecting unemployment insurance benefits. In addition to employment services, we also provide some guidance with navigating unemployment insurance, although we do not issue determinations. During the pandemic, most of us had to switch gears and help the unemployment insurance unit full-time. 
Tell me how you have supported PEF's Fund Our Future campaign. 
I support PEF's Fund Our Future campaign in two ways — directly appealing to members to sign letters and petitions in support of the campaign, and through my work with political candidates. In April 2022, I was a team leader for PEF's so-called "Albany Blitz," spearheading worksite meetings for PEF members by day, then knocking on doors at night to meet potential new members. PEF members were very enthusiastic about it. Nothing beats talking to members in person. They were hungry for it after months of isolation due to the COVID pandemic.  
As a member of the Democratic Socialists of America (DSA), I've had the opportunity to educate some of their endorsed candidates on PEF's Fund Our Future campaign, especially the ones seeking PEF's endorsement through our local political action committee. There is a lot of overlap between DSA's priorities and PEF's Fund Our Future campaign. It's great to bring these two aspects of my activism together.  
Please comment on the value of public employees. 
I could write a grad school paper on that, but to keep it plain, clients who walk into my office expect their government to work. They are not asking for a private-sector or market-driven solution to their needs. They want their government to be there for them when they need help. If public-sector facilities are understaffed and under-resourced, it feeds into the notion that the system is rigged against ordinary working people in their hour of need, weakening faith in democratic institutions. As a union leader, I also understand that attacks on public-sector employees are attacks on unions, since much of the public sector workforce is unionized. I think it's very important for public sector employees to stand in solidarity with the workers trying to unionize at private companies like Starbucks and Amazon, and with other struggles that fall outside formal unionism. Public sector employees are at the intersection of social justice and the labor movement.