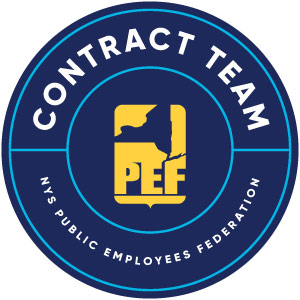 February 17, 2023 — Since December 2022, the PEF Contract Team has presented the State with 15 comprehensive proposals based on the economic and workplace priorities expressed by PEF members. 
"Our team is prepared to move negotiations forward with detailed, thoughtful proposals," said Contract Team Chair Darlene Williams, following negotiations with the State on Feb. 7 and 8. The Office of Employee Relations (OER), in contrast, has kept its proposals broad, she said. "OER has only put forth general concepts, not full language proposals with the details required to engage in meaningful and productive bargaining." 
Williams said there appears to be a disconnect between the OER negotiating team and Governor Kathy Hochul. 
"OER's approach is out-of-step with our governor," Williams said. "She has been steadfast in her respect for the State workforce and wants to assure the State is an employer of choice." 
It will be critical that PEF members show their support for the Contract Team in the coming months. 
"We know we can count on our PEF sisters and brothers to stand with our Contract Team as the team stands firm to achieve a fair and respectful contract," Williams said. "Stay tuned to your email and PEF's social media for information about mobilization actions in March." 
The union is scheduled to sit down again with OER on March 21 and 22.