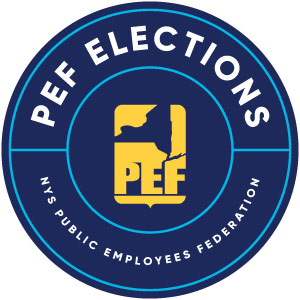 February 17, 2023 — Two vacant seats on the PEF Executive Board were filled during the first-quarter special election, and balloting will be held to determine who will fill three contested seats. 
Tanya Oliver was elected to Seat 25, representing certain members at the Department of Corrections, and Stephen Powers was elected to Seat 425, representing certain members in the state Department of Public Service. 
Their terms of office will be until July 31, 2024. 
William Ferguson, Kathryn Bamberger, and Sheri Smith were certified for Seat 55, which represents certain members at Economic Development; Tamara Martin and John Nicotina were certified for Seat 255, which represents certain members at the Law Department; and Mamadou Diallo and Jeffrey Sardegna were certified for Seat 535, which represents certain members at the Department of Transportation. 
Ballots will be mailed to these constituencies on February 22, by the American Arbitration Association (AAA) and must be returned no later than 5 p.m. March 15. Ballots will be counted on March 16 by AAA in New York City. 
No candidates were certified following petitioning for 11 remaining vacancies and nominees for those seats, and any that become vacant in the interim, will be sought in the second-quarter special election that begins in April. 
The vacant seats are: 
Seat 1

, Agriculture & Markets

 

Seat 15

, Civil Service

Seat 90

, Higher Education Services Corporation

 

Seat 101

, SUNY Stonybrook

 

Seat 104

, SUNY Stonybrook

 

Seat 172

, ITS

 

Seat 395

, OMH/OPWDD

 

Seat 545

, Political Subdivisions of NYS

 
For more information, visit the PEF Elections page.