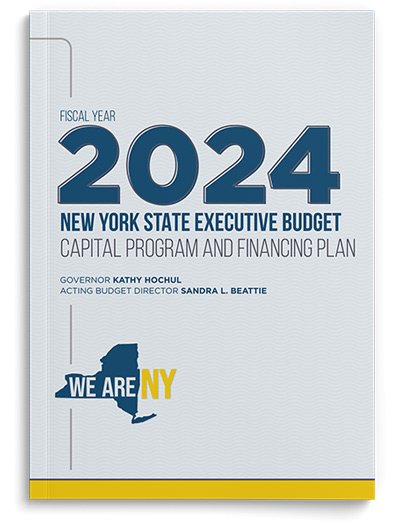 Gov. Kathy Hochul released her FY 2024 Executive Budget on February 1, following on the heels of her State of the State address that outlined an ambitious course for the year. 
PEF's Legislative Department completed a preliminary analysis of the budget, drilling down into the governor's proposals for civil service, health and mental health programs, criminal justice, and more. 
"The governor has adopted many of the pillars of PEF's Fund Our Future campaign, including multiple civil service reforms and investing significant resources to address the mental health epidemic," said PEF President Wayne Spence. "We look forward to working with her and our partners in the State Senate and Assembly to enact a budget that addresses chronic workforce shortages so that all New Yorkers can access the services they need and deserve." 
State workforce 
The governor said the State faces a shortfall of 12,500 workers across key agencies and that more than a quarter of the workforce (26%) will be eligible to retire in the next five years. Those alarming statistics are why PEF started its "Fund Our Future" campaign almost three years ago, so the union welcomes the governor's proposals to reinvigorate the Civil Service system by allowing for continuous exams, modernizing the pay structure, and establishing new recruitment centers. 
There is also a proposal to review the statewide civil service structure for all job titles to ensure they meet the needs of State employers, align with the job market, consider pay equity, and level the playing field with the private sector. 
"But more needs to be done," said Spence. "The compensation and benefits packages for licensed or professional staff are far below the private sector. We need to further fix Tier 6 so the state's pension plan can do what it was always intended to do – attract and recruit talent." 
Mental Health 
The governor's budget also includes PEF's Fund Our Future proposal for addressing the growing mental health needs of New Yorkers by funding inpatient psychiatric services across the state, calling for 1,000 additional inpatient psychiatric beds at mental health facilities. One-hundred-and-fifty would be new state-operated beds and 850 would come back online. 
Criminal justice 
Again mirroring language from PEF's Fund Our Future campaign, the budget proposes $7.7 million in additional funding for community supervision re-entry programs, for a total of $11.5 million, to provide behavioral, health, employment and educational services for formerly incarcerated individuals. 
"We fully support re-entry services for the formerly incarcerated, but we would like to see a network of integrated state services established through OMH, OASAS, DOL and other service agencies so that a comprehensive suite of services is available across the state for everyone regardless of their circumstances.  This approach would also help the state collect data to inform best practices and to gauge the overall efficacy of these rehabilitation programs moving forward." Spence said.  
SUNY hospitals 
Hochul's budget earmarks an additional $72 million, bringing the total to $106 million, for Disproportionate Share Hospital payments for under- and uncompensated care at the three SUNY hospitals, Upstate, Downstate and Stony Brook. 
PEF supports the proposal but believes the total allocation should be $175 million to best serve the community. 
Get involved 
In the days and weeks ahead, PEF will continue to further analyze the governor's budget proposal to see where it aligns with the best interests of PEF members and the New Yorkers they serve, and where it does not. 
"Keep an eye on your email because we will be actively moving forward our agenda," Spence said. "We will ask you to send letters to your elected officials and support other campaigns as we do the work of the union and advocate for you."