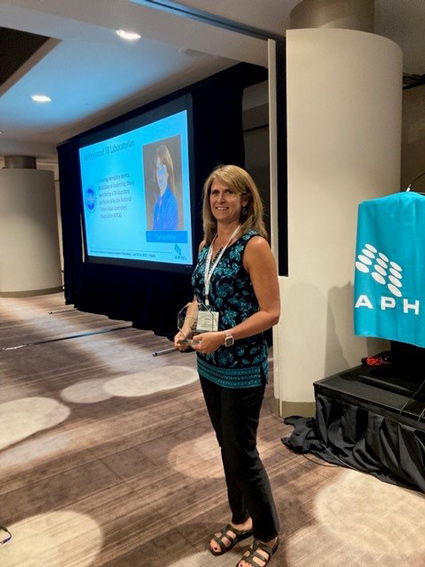 A PEF research scientist at the Department of Health's Wadsworth Center received a prestigious honor for her work and research on tuberculosis (TB).  
Tanya Halse was the 2022 recipient of the Ed Desmond Award from the National Tuberculosis Controllers Association (NTCA), which honors the exemplary service, dedication, or leadership of a tuberculosis laboratory professional. 
"I was honored and extremely excited that all of my hard work over the years was recognized amongst my peers and colleagues," Halse said. "It was a wonderful way to end such a rewarding career, as I retired in November. 
"I'm proud of the fact that our lab is currently the only public health lab in the U.S. that offers whole genome sequencing of TB as a clinical test, which offers not only identification but also drug resistance prediction and genotyping for surveillance of transmission. We've been offering this test to New York patients since 2016." 
The importance of the work 
When you're in need of medical treatment – the faster the better. And when you don't know what infection you have – accurate testing becomes critical. 
Scientists at Wadsworth's Bacteriology Laboratory are behind the creation of numerous infectious disease molecular tests, including tests for E. coli shiga toxin, Bordetella pertussis, Chlamydia trachomatis, among more than a hundred others. 
"An accurate diagnosis can be made rapidly, and patient treatment can begin earlier than if we wait for the organism to grow," said Halse, who supervised a unit of the Bacteriology Lab before retiring. "Many organisms require special culture media, grow extremely slow, or may die quickly while being transported, which may result in a negative culture, ultimately leading to no diagnosis and thus no treatment, or worse, the wrong treatment." 
Halse and fellow research scientists at Wadsworth developed and validated numerous molecular diagnostic tests to detect bacterial DNA in specimens. In 2006, she developed a molecular test for the detection of Mycobacterium tuberculosis complex (TB) DNA in respiratory specimens – work that earned her recognition in professional circles. 
"Over the next 16 years, I continued to work on new molecular tests for TB diagnostics," Halse said. "As these tests were becoming recognized within the field, I was invited by the Association of Public Health Labs and Centers for Communicable Disease to teach other public health labs these tests in an annual workshop.   
"Many other labs were using outdated technology that required more staff time and were more costly than the methods our lab was using," she said. "Today, many labs both nationally and internationally use the same methods that Wadsworth Center uses."  
The tests are an integral part in combatting infectious disease. 
"Rapid treatment for patients with infectious diseases means quicker recovery and less transmission," Halse said. "TB is particularly difficult to treat with standard drug regimens of four drugs for at least six months. If drug resistance is detected, treatment must be altered to eliminate the resistant drugs so it's important to have an accurate resistance profile as early as possible." 
Getting into the laboratory 
Halse's journey toward her eventual career began early. 
"I've always enjoyed science, even as a young child," she said. "It was a strong subject for me, and I took as many advanced courses in science in high school as were available. As I started preparing for college, I knew my interest was in the health field, but I didn't necessarily want to have hands-on contact with other people, which ruled out nursing or a physician as careers. 
"Medical Laboratory Technology seemed to be the perfect path for me," she said. Halse attended SUNY Geneseo as a biology/medical laboratory technology major and graduated with a bachelor's degree in biology. "I knew I wanted to work in a laboratory and applied to New York state soon after graduating." 
She started her career in 1990 as a CSEA member, and in 2001, when she became eligible as a bacteriologist, she joined PEF. 
"I've always felt that joining a union leads to better lives not only for me and my coworkers, but for all Americans," she said.  
For those trying to figure out where they want to land in their career, Halse has some advice.  
"I would say pursue whatever interests you, and if that's science, then go for it," she said. "There are so many opportunities these days that you are bound to find something that will make you happy. Ultimately, you want a career that makes you feel rewarded – like you are making a difference."