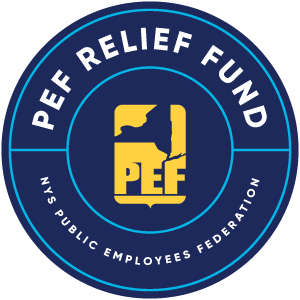 March 10, 2023 — The generosity of members across the state generated more than $9,000 through the PEF Relief Fund for members in Region 1 impacted by the unprecedented snowstorm over the Christmas holiday. 
"When the blizzard hit Buffalo, PEF activated its Relief Fund to do what we do best — help our fellow union sisters and brothers," said President Wayne Spence. "As promised, we are distributing the money directly to members who worked 48 hours continuously during the blizzard or suffered damage as a result of the storm." 
As of March 8, the fund has about $750 left to distribute. PEF will send $25 Target gift cards, on a first come, first served basis, to members from Region 1 who fill out a form here and who are determined to be eligible. Once confirmed, the physical card will be mailed to a home address. Region 1 members may also download the form here, fill it out and then email it to PEFOnline@pef.org.
Cards will be distributed until the entirety of the fund is depleted.