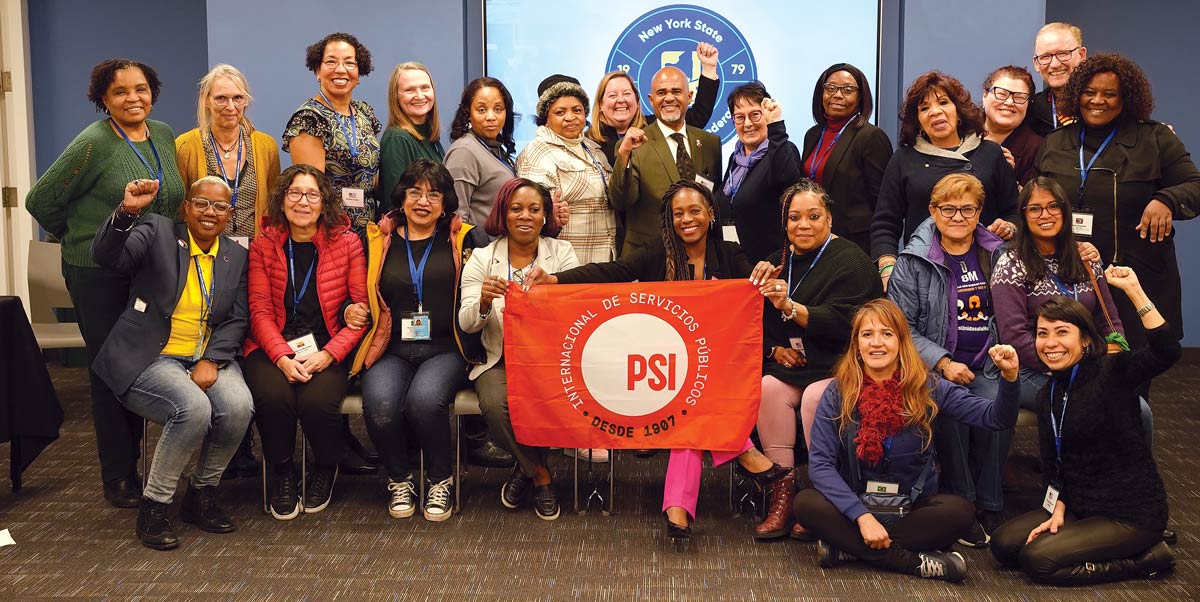 March 10, 2023 — For a few hours on International Women's Day, March 8, the PEF Region 10/11 office in New York City was filled with the sound of people talking Portuguese, Spanish, French, and a few more languages as well. Twenty delegates from Public Services International (PSI), in town for the annual U.N. Commission on the Status of Women (UNCSW) conference, gathered with members of the PEF Women's Committee and representatives from AFT for an evening of fellowship and conversation. 
PSI is a global union federation that counts among its affiliates both AFT and SEIU, PEF's two international parent unions. AFT approached the PEF Statewide and New York City Women's Committees with the idea to invite the PSI delegates to the Manhattan office as a show of solidarity for the work they do advocating for the rights of women at the UNCSW. 
PEF Vice President Darlene Williams welcomed the women at a reception featuring authentic NYC cuisine, including a hot dog cart, miniature pastrami sandwiches, potato knishes and New York cheesecake. 
"Our goal was simple – to show support for these women who represent all of us at the U.N.," she said. "The issues they're tackling – from privatization to worker safety to the digitalization of public services – are some of the same issues PEF is discussing with New York State," she said. 
The women came to New York from 10 countries: Bermuda, Brazil, Canada, Ecuador, Eswatini, France, Jamaica, Mexico, Peru, and South Africa. 
PSI General Secretary Rosa Pavanelli, from Brazil, kicked off a group discussion during dinner.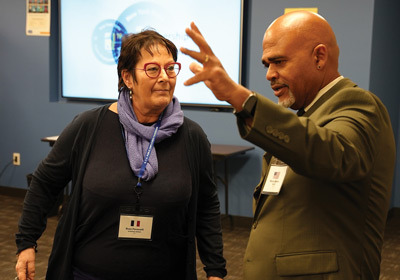 "We need to strengthen our ties and continue to defend workers if we want to defend democracies," she said. "We believe that investing in public services defends human rights much more than investing in conflict, war and armaments." 
Various women then shared their stories, some in their native language as a staffer from PSI provided translation. Many spoke about their experiences during the pandemic, which led to nods around the table from PEF members. Remember health agencies providing masks to doctors, but neglecting the orderlies who had to clean the rooms of COVID-positive patients? It happened in Peru, just like it did in New York. Another woman, a nurse, spoke about sleeping in her garage for months for fear of infecting her family. And a third echoed a story from a PEF member about being told to wear coffee filters on her face because there weren't enough N95s. 
President Wayne Spence concluded the evening with some final remarks.  He said his participation in various PSI forums over the past year has driven home one key point – organized labor across the world faces the same threats. 
"We have so much more in common than our differences," said Spence. "The connections we made here today will help PEF continue to advocate for all its members."