March 10, 2023 – Ahead of a joint budget hearing on workforce development, PEF President Wayne Spence and Vice President Randi DiAntonio called for changes that would address pay equity, the Tier 6 pension plan, and Civil Service shortcomings, which would drive recruitment and retention efforts.  
The press conference took place outside the Senate Chambers in Albany and PEF leaders and members were joined by State Senators Robert Jackson and Jessica Ramos, who chair the Civil Service and Pension and Labor committees, respectively.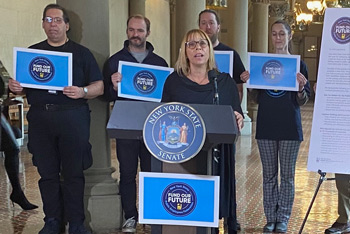 "Public employees take care of this state, and we have to really take care of them," DiAntonio said. "The world of work is changing, and we need to get on board with that change if we really want to attract the best and the brightest and if we want to keep the folks that we currently have on the job."  
Lower starting salaries, lack of promotional opportunities, an overreliance on overtime, and an inferior Tier 6 pension plan have decimated and starved the state workforce.  
"There is a national shortage of skilled municipal workers," Spence said. "Their value cannot be understated. There was once a time when the state didn't care: 'Oh, there's nowhere to go.' Telework and technology is making it so that other states are looking to places like New York for the excellence that we have."  
Many people are jumping to the private sector for opportunities to improve work-life balance. PEF encourages state agencies to consider alternate work schedules and remote work to help retain staff. 
"We're heartened by the fact we are sitting here having a dialogue about improving staffing at state agencies and improving how government operates," she said. "We're hoping that a new day is dawning, and we thank the governor for lifting the hiring freeze last year. We are committed to rebuilding this workforce. There are things that we need to fast track."  
She emphasized the staggering shortage of staff and its repercussions.  
"We've seen over the last several years an increased reliance on overtime," she said. "Our workforce is stressed out, they're exhausted, and they work under sometimes toxic and unsafe working conditions. Not only do we have a problem on the front end with recruitment; we have a problem on the back end with retention."  
According to statistics from the governor's office, the state is down 12,500 workers, with 26% more ready to retire in the next five years.  
"We don't have people coming on board fast enough to replace them," said DiAntonio. "We need an emergency staffing plan."  
The onboarding process itself doesn't help matters. 
"Onboarding can take six months," DiAntonio said. "We're losing good people."  
She said the state used to do mentorships and internships, connecting with colleges to bring in young professionals who then stayed in state service. Now, new hires are thrown into the fire, she said, and oftentimes overwhelmed. 
"PEF fully supports the various improvements to the civil service testing, hiring and on-boarding processes proposed in the Executive Budget," she said. 
PEF submitted several budget requests, including legislation to standardize mandatory employee contributions at 3% after 10 years for Tier 6 participants and legislation to modernize the Civil Service pay structure, develop a job evaluation system to align Civil Service with the private sector, and adjust every title upward at least two pay grades.  
"We know pay equity is a huge problem," said DiAntonio. "We know many of our titles can go to the private sector and make more money. And we're hearing from Tier 6 workers that it isn't worth making a career out of state service." 
Her testimony also urged lawmakers to support expansion of the Healthcare Worker Bonus program to include all staff deemed "essential" during the COVID-19 state of emergency. 
"While health care employees rightly received supplemental payments for their services during this crisis, tens of thousands of state workers have not received any hazard pay," DiAntonio said. "This has hurt morale and the overall culture of work in state government."   
As lawmakers continue to work toward enacting a budget for Fiscal Year 2023-2024, all PEF members are urged to participate in the union's letter-writing campaign, which allows them to send letters to local lawmakers urging support of PEF's budget priorities.  
Get started sending letters, here.  
PEF Vice President Randi DiAntonio's testimony begins at 2:42:30.