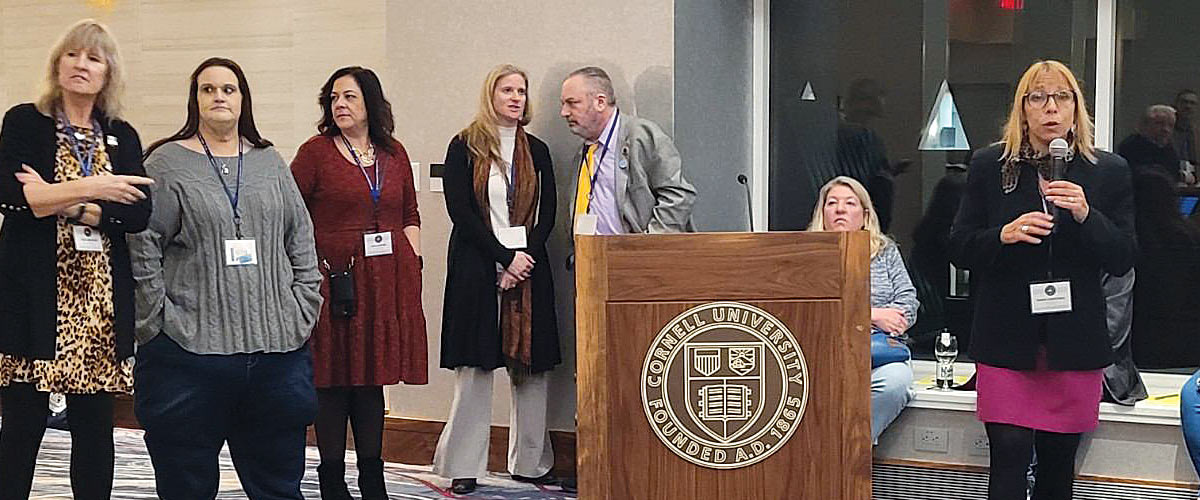 Ma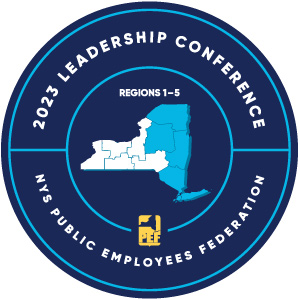 rch 10, 2023 – It was a full house at the Statler Hotel at Cornell University as nearly 100 PEF leaders from Region 1 through 5 gathered February 24 to 26 to learn how to best serve their members in everything from approaching leadership with positivity and mental resilience, to the ins and outs of the Civil Service system and workers' compensation. 
Keynote speaker Dr. Steve Birchak, aka "Dr. Bird," brought his usual humor and various props as he talked about the power of positivity when dealing with high levels of stress, whether from understaffing, the continued threat of COVID-19, or the prevalence of negativity in the world. 
"The news seems to be nothing but bad," he said. "But when there is a tragedy, there are hundreds that come to their aid. The bad guys get all the headlines, but we are capable of helping each other. In a union, we take care of each other."  
Union leaders bear more responsibility and must be aware that their behavior and demeanor trickles down to those they serve, he said. "Leadership roles are a calling. Attitudes and actions have a lot of influence on how members perceive the union." 
Birchak shared ways to improve communication, leadership, and attitude, emphasizing the power of positive thinking, self-discipline, poise, personal growth, integrity, mindfulness, and vulnerability, among others.  
Following Birchak's workshops, PEF Health & Safety brought in speakers to address the importance of reporting workplace injuries to human resources and PEF, and why filing a worker's compensation claim is so important. 
People are encouraged to file even if there is no lost time because an injury may cause lasting medical issues and problems can reoccur years down the road. There are many rights and benefits in addition to wage loss that make filing a claim worth the effort, such as reimbursements for medical equipment. 
Physical injuries are one thing – but people can also suffer psychological trauma on the job and those cases can also be pursued.  
These can include physical injury with a mental reaction; seeing or being involved in a traumatic event; or workplace stressors, like attacks in the workplace, returning to a location where a traumatic event took place, short staffing, and even extraordinary amounts of overtime. These cases are harder to win, but leaders were encouraged to urge their members to report and file a claim. 
Other workshops for leaders included an overview of the Civil Service system, what Membership Benefits has to offer, basic and advanced grievance handling, and how to talk to members about contributing to COPE, the fund dedicated to lobbying on behalf of unions at the federal level.