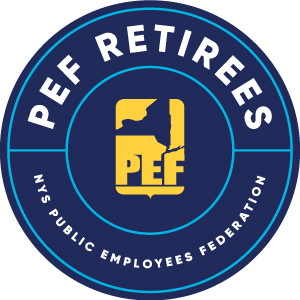 March 9, 2023 – March is the month that we transition from winter to spring. It's also when the New York state budget is negotiated. Retirees have a stake in these negotiations; therefore, I have focused this article on senior concerns identified by the New York State Alliance for Retired Americans (NYSARA). 
The proposed state budget was presented by Gov. Kathy Hochul on February 1. In a recent NYSARA Monday Alert, the overall view of labor on the budget was presented in a letter by New York State AFL-CIO President Mario Cilento. The following Monday Alert analyzed the parts of the budget that may impact seniors and is included below. 
Indexing of minimum wage 
NYSARA believes this should have already been done when we lobbied, with success, for the increase to a minimum wage of $15/hour. This is important to seniors as upward of 40% of people over the age of 65 are still in the workforce, many working minimum wage jobs, so by increasing minimum wage we increase the money going into the Social Security and Medicare trust funds. By indexing the wage to inflation, the minimum wage will never fall behind the rate of inflation. 
A comprehensive $25 billion housing plan that assists seniors 
This plan will create or preserve 100,000 or more affordable homes across New York, including 10,000 with support services for vulnerable populations. The plan includes: 
$1.5 billion for the creation and preservation of housing with supportive services.

 

$1 billion for new construction of multi-family affordable housing.

 

$450 million to preserve existing multi-family rental housing that strengthens existing affordable housing statewide and allows individuals and families to remain stably housed.

 

$300 million for senior housing specifically to help older New Yorkers age in place safely and in homes that meet their health needs in the communities they love.

 

$250 million for electrification funding to improve energy efficiency in low-income housing units.

 

$200 million to preserve public housing outside of New York City, which often serves the lowest income seniors and New Yorkers.

 

$35 million dedicated to support the Eviction Prevention Legal Assistance Program, which helps ensure that legal counsel is available to low- and moderate-income tenants to defend against eviction.

 

$35 million to support the state's Homeowner Prevention Program. 

 

$36 million will go to the NYS Affordable Housing Corporation to increase homeownership opportunities.

 
Additionally, the governor proposes that we build on the state's status as the first in the nation to officially receive the age friendly designation from the AARP and World Health Organization. She pledges that New York state will:  
Ensure access to aging services and high-quality long-term care.

 

Revitalize emergency medical services and medical transportation.

Expand health insurance by raising the eligibility for Medicaid to 138% of the federal poverty level.

 

Commit to recruit and pay the home care workforce and address transportation barriers.

 

Strengthen the long-term care ombudsman program.

 

Provide alternatives to nursing homes.

 

Address the nutritional needs of older adults because 1 in 4 adults over the age of 60 and living at home is considered nutritionally at risk.

 

Regulate pharmacy benefit managers to lower prescription drug costs to New Yorkers.

 

Increase programmatic and regulatory efforts to prevent elder abuse and fraud.

 

Lower taxes on middle- and lower-income people and increase benefits to older adults.

 

Wave the income cap on retired teachers to encourage them to come back to teaching to address the teacher shortage.

 

Expand NYSOFA partnerships that bring virtual programs into the homes of older adults to combat isolation.

 
"All the flowers of all the tomorrows are in the seeds of today." – Unknown Author