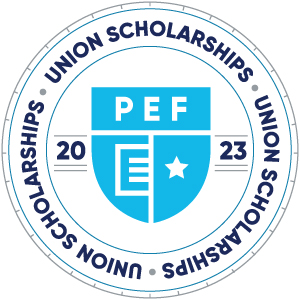 April 18, 2023 — Division 243 is soliciting applications for its 2023 Public Service Scholarship, awarded for dedication to public service, education, worker's rights, justice and equality, and progressive causes. 
The selected applicant will receive $500. 
The recipient must be a child, stepchild, or grandchild of an active member of PEF Division 243; must be enrolled in higher education for the upcoming academic year (2023-2024); and must have a record of community service as a volunteer in a community, school, or civic organization. 
The applicant must include two reference letters from people familiar with the candidate's community service and a brief essay (one page, double-spaced, about 250 words) discussing ways in which they would like to improve their community. 
The award will be given without regard to political party affiliation, gender, race, creed or national origin. Completed applications are due to the PEF Division 243 Scholarship Committee no later than May 5, 2023.  
Submit applications via email to pef243scholarship@gmail.com. Please attach the contact information sheet, available here, with your application.