April 18, 2023 — Body camera footage of New York State Trooper Frank Rush pulling a driver from a pond in Fishkill on Aug. 17 last year circulated widely online. PEF member and fire protection specialist James Galu was recently honored by the Department of Homeland Security and Emergency Services' Office of Fire Prevention and Control for his role in assisting with the rescue. 
"It definitely was an honor to receive the recognition, especially with all of the work fire protection specialists do every day – from responding to emergencies across the state, as well as training other responders on how to be safe and effective," Galu said. "On the day of the rescue, I happened to be in the right place at the right time and was able to effect the rescue with Trooper Frank Rush and a good samaritan who entered the water before either of us arrived on scene." 
On that day, Galu heard an emergency call dispatched by 911 in the town of Fishkill and went to offer his assistance. Upon arriving at the scene, he observed an occupied vehicle in a body of water, which was quickly becoming submerged.  
"James dove into the water and began to swim to the vehicle, completely putting others' needs before his own safety," the agency wrote when recognizing Galu's efforts. "As the vehicle was sinking, James and a NYS Trooper, who had also entered the water, were able to extricate and surface a man who was unconscious and trapped in the vehicle. James and the Trooper were able to bring the man to shore to receive medical attention. Once on the shore, the driver expelled water from his lungs and he was transported to a local hospital in a conscious state." 
The agency praised Galu for his selflessness. 
"James never hesitates to help when it is needed and is usually the first to step up and answer the call for help," the agency wrote. "He is the guy who always puts others first and one we are proud to have on our team. The driver of this vehicle was extraordinarily lucky to have James in the area on this day and we are extraordinarily lucky that James is on the DHSES team." 
That Galu works as a fire protection specialist comes as no surprise. Fire service is in his blood. 
"I grew up in the fire service, both of my parents and grandfathers were firefighters, and I knew I wanted to be involved in emergency services in one way or another," he said. "Working for the Office of Fire Protection and Control (OFPC) is a continuation of that but has also allowed me to expand on my formal education with excellent real-world experiences and fantastic mentors both inside the agency and out." 
His work with the state has taken him to Kentucky, to assist with tornado response; to Puerto Rico, to do damage assessments after a hurricane; and to various large wildfires and snowstorms as a first responder.  
"The experiences with OFPC have given me a greater appreciation for the entire emergency services community that exists outside of fire," he said.  
Galu has worked for OFPC since 2012. For most of his tenure, he has been assigned to the Fire and Life Safety Branch (FLSB), promoting fire prevention and public education, until he recently transferred to the Fire Training and Education Branch (FTEB). He is also a volunteer firefighter for the Village of Fishkill Fire Department. 
OFPC also recognizes 3 members for firefighter training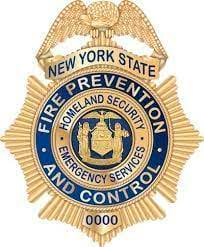 PEF members Mark Warfle, Frank Balys and Bryan Monacelli were recognized for their work with the Recruit Firefighter Training Program (RFFT) at the New York State Fire Academy. 
"Even on a good day, working with the RFFT program and the NYS Fire Academy is undoubtedly one of the most demanding positions in our agency," said a release from OFPC. "It's a high stress job. The team must pay attention to and balance the needs of approximately 100 subordinate instructors, classes of 40 recruit firefighters, and the needs of the dozens of agencies that rely on our services with each program offering." 
The team was tasked with updating and refocusing the decades old RFFT curriculum, which they accomplished without any stand down, delay, or cancelation of recruit academy offerings. Through their leadership, the program expanded from 11 weeks to 15 weeks, providing a far better "product" for recruits and fire department customers.