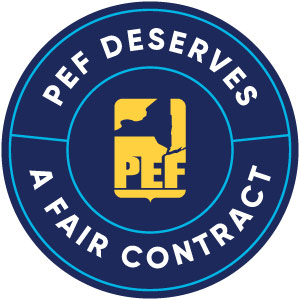 April 3, 2023 — The state finally passed most of their full-language proposals across the bargaining table at negotiations March 21 and 22, allowing the two sides to move into a more productive and intense phase of negotiations.  
"With both sides having proposals on the table, we are hopeful that we can now move forward with the more extensive, hard bargaining necessary to reach an agreement," said Contract Team Chair Darlene Williams. 
The state denied PEF's request to extend several provisions of the contract that ended when it expired on April 1, 2023.  However, the state did agree to extend the Article 33 (disciplinary) pilot programs allowing for expedited suspension review and virtual hearings.,  
"Most contractual items, including many very important ones, do not sunset," said Williams, such as health insurance benefits, performance advances — which will be paid to eligible members this month — and performance awards or longevities, for which we eliminated sunset language in the last contract. Also, grievance and arbitration rights pursuant to Articles 33 (discipline), 34 (contract grievances) and 17 (out-of-title grievances), don't sunset." 
The following are some programs that did sunset on March 31, 2023:
A pilot program allowing unused convention days to be used for other employee organizational leave.

 

The enhanced worker's compensation benefit for parole officers (injuries incurred April 1 and after are not covered).

 

A $500 lump sum for seasonal employees at Parks and DEC.

 

The $500 special assignment duty pay (members will get April 2023 payments, which are based on 2022).

 
The Article 14 Quality of Work Life Program.

 
As of July 1, 2023, the Over-40 Comp Time Program will sunset, after which employees will not have the option of being compensated for overtime with comp time credits instead of overtime pay. 
No extensions have yet been granted for some sections set to sunset on Dec. 31, 2023, including joint committees and programs such as Article 9 (Joint Committee on Health Benefits), Article 10 (Work-Life Services Programs), Article 14 (Professional Development and Quality of Work Life Committee), Article 15 (Professional Development Committee), Article 18 (Health and Safety Committee), Article 27 (Reimbursement for Property Damage), and Article 42 (Career Mobility Office). "Article 15 includes several programs that provide significant direct reimbursement to our members, including the College Tuition Reimbursement Program, the Workshop and Seminar Reimbursement Program, and the Certification and Licensure Exam Fee Program," Williams said.  
The same goes for the Productivity Enhancement Program (PEP), which allows employees to use a set amount of accruals as a credit toward their employee share of health care premiums and state contributions to Dependent Care Advantage Accounts. 
While PEF can offer no definitive guarantees regarding the reinstatement of these provisions that expired or are due to expire later this year, the union historically has negotiated the retroactive reinstatement of such provisions. In addition, the Contract Team is focused during this round of negotiations on eliminating many of the sunsets moving forward, including PEP and Article 15. The goal is to build upon the success the union had in the 2019-2023 contract when the sunset was eliminated governing performance awards or longevity pay.