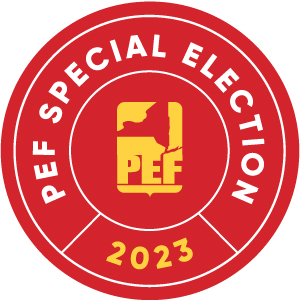 April 18, 2023 — Petitioning for the April Special Election is under way – now's your chance to take part in the business of the union and help shape PEF's future by seeking election to the Executive Board. 
There are 11 Executive Board seats up for election:     
Seat 1, Agriculture & Markets 

Seat 15, Civil Service
Seat 90, Higher Education Services Corporation
Seat 101, SUNY Stonybrook
Seat 104, SUNY Stonybrook
Seat 172, ITS
Seat 173, ITS
Seat 290, OPWDD
Seat 295, OMH
Seat 395, OMH/OPWDD
Seat 545, Political Subdivisions of NYS 

 
Petitioning began April 10 and ends May 2.  
"If you've ever wanted to have more of a voice in your union, Executive Board is a great opportunity to shape the policies and agenda of PEF," said President Wayne Spence. "By giving members from all our agencies a seat at the table, we ensure that the needs of all members are met." 
After the petitions are collected and eligible candidates are determined, ballots will be mailed May 23 and must be returned by June 14. Petitions are available at www.pef.org/elections.