April 3, 2023 — More than 30 nurses attended the PEF Statewide Nurses Committee (SWNC) Conference March 25 in Syracuse, covering everything from legislative and budget bill updates, to health and safety and workplace violence, to the work the American Federation of Teachers (AFT) is doing with its "Code Red" staffing crisis initiative.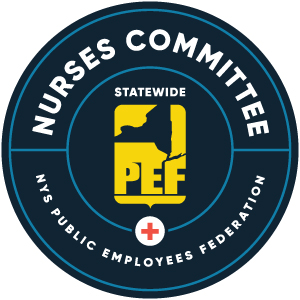 AFT's Health Issues Assistant Director Haley Quinn presented the staffing crisis workshop and discussed "Code Red: Understaffing = Patient Care Crisis," a $1 million multi-faceted, multiyear campaign involving more than 100 AFT affiliates who will focus on the issue of inadequate staffing and hold health care corporations and the government accountable through education, outreach, advocacy, contract bargaining and legislation, according to the AFT website. 
The campaign actualizes the recommendations of the AFT's landmark "Healthcare Staffing Shortage Task Force Report," released in November 2022, which found nurses and other healthcare professionals are exhausted, burned out, anxious and leaving the profession in droves. You can learn more about the campaign here. 
"We learned a lot and we had meaningful discussion on the state of nursing in New York, as well as AFT's Code Red campaign," said PEF Nurse Coordinator Nora Higgins. "It's critical that we work to address health and safety, workplace violence, and short staffing so that we can protect both our nurses and our patients." 
Nurses who attended the conference had the opportunity to obtain three continuing education credits (CEUs). One of the programs offered this year, "Critical Incident Stress Management," was particularly helpful, Higgins said. The speakers closed out the session with soothing techniques nurses can use to calm themselves during situations that are, or can become, out of control.  
President Wayne Spence attended the conference and offered words of support to PEF's nurses. 
"The pandemic highlighted your hard work and your unwavering dedication to your patients," he said. "We saw firsthand the devastating impact short staffing has on not just nurses working long hours and excessive overtime, but also on the patients. Along with AFT, we are on a mission to address this crisis and we will continue to fight for legislation and meaningful change." 
The SWNC, chaired by Amy Pacholk and co-chaired by John Traverne, is a representative body that advises PEF's Executive Board on all nursing-related matters. The committee lobbies for legislation beneficial to the profession, analyzes legislation and industry trends as they pertain to the profession, and constantly advocates for nurses and their patients.