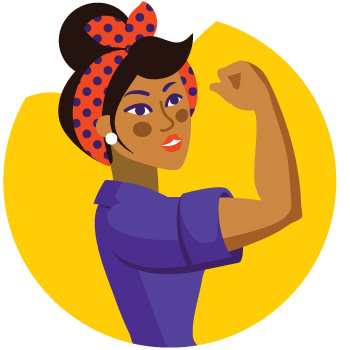 April 3, 2023 — For the third year in a row, during Women's History month in March, PEF recognized and celebrated female members who have demonstrated significant accomplishments or leadership. Members were asked to nominate women in the union's ranks who have demonstrated at least one of the following qualities:  
Leadership

Service and community engagement

 

Key characteristics of a leader

 

Commitment to diversity, equity and inclusion

 

Continued support of union values

 
Women's History Month was established by Congress in 1987 to address the fact that, "the role of American women in history has been consistently overlooked and undervalued in the body of American history" and that to remedy this "the President is requested to issue a proclamation calling upon the people of the United States to observe such month with appropriate ceremonies and activities." (Public Law 110-9) In his 1987 proclamation, President Ronald Reagan stated: "I call upon all Americans to mark this month with appropriate observances to honor the achievements of American women."  
The following PEF members were honored and recognized. Included below their title and agency is a quote from the individual who nominated them.  
Leisa Abraham
Psychologist 2
OPWDD 

"Leisa is a hardworking, dedicated leader who is there for the membership. She sees a problem and tackles it head on. From standing up with members who were being bullied to organizing a regional women's committee, to spearheading a Fund Our Future video day with the School for the Blind, she is always at the ready to promote union values and needs." 

———

Scarlett Ahmed
Supervising Labor Services Representative
DOL 

"An incredible unionist who has influenced many, including me. I love talking union, social justice and life in general with her. Scarlett has great values and ethics. I'm proud to call her my sister."

———

Lisa Balistreri
Developmental Disabilities Program Specialist
OPWDD 

"To say she goes above and beyond her job description is an understatement, especially given the trying times of COVID and the challenges that are still to come with rebuilding our post-pandemic services and team. She advocates for the needs of our population tirelessly and assertively handles any challenges or conflicts that accompany this." 

———

Sarah Bradley
Research Scientist 3
DOH 

"She is such an inspiration as a scientist and as a supervisor. She is selfless and kind and empowers others to be the best that they can be." 

———

Jennifer Bradt
Registered Nurse Supervisor 1
OPWDD 

"Whether it's with work or with the union, she is always willing to help and jump in to take on a leadership role. Jen works as a nurse administrator for OPWDD, but she has taken on different roles in the union to represent the nurses under her. She serves on the PEF Statewide Nurses Committee and makes sure to keep everyone up to date on what's happening with nursing issues."  

———

Catherine Dell'Angelo
Employee Retirement System Examiner 5
OSC 

"Catherine has been a role model to all union leaders – past and current – and serves as a fighter for future leaders to look up to. Catherine stands up for what is right, regardless of adversity, and empowers women to stand up for what they believe in. I owe my strength and tenacity to her and I'm thankful that I had such a strong role model to look up to early in my career." 

———

Karen Hockey
Registered Nurse Supervisor 1
OPWDD 

"She takes the time to listen to everyone and has worked to take Sunmount nursing in a better direction." 

———

Lynne Kuber
Teacher 4
OCFS 

"Lynne goes above and beyond to meet the needs of Brookwood's residents. Each day she visits all the wings and checks in with kids to ensure their educational program aligns with their Special Education accommodations as well as their progress toward graduation. She recognizes their birthdays, brings her guitar around to serenade them and generally does what she can to keep everyone's spirits up and the stress down." 

———

Elizabeth Murray
Registered Nurse 1
OPWDD 

"Beth has always been curious about union activities. She has been the division leader now for less than a year and has jumped right into this leadership role. Members have quickly become comfortable coming to her for help and if she doesn't have the answer right away, she finds out how to get it. She makes the members in the division feel supported." 

———

Tiffney Nerkowski
Registered Nurse Supervisor 1
OCFS 

"She's a phenomenal supervisor and PEF steward in our facility. She cares about the staff and the health and safety of our youth, going above and beyond her roles and responsibilities." 

———

Bernadette O'Connor
Recreation Therapist
OMH 

"Bernadette serves as trustee and chair of the PEF Membership Benefits Program. She has been, and is committed to, ensuring that PEF members have relevant and quality benefits for themselves and their families. Bernadette has been instrumental in suggesting new and exciting benefits for exploration." 

———

Tanya Oliver
Teacher 4
DOCCS 

"Tanya took on a very difficult division with no stewards. She has worked hard to make sure that members know who she is and spent a lot of time trying to help with their issues. Tanya has always gone above and beyond in support of all of us in PEF. She has made sure to include us in all that is happening and kept us up to date on the next chapter." 

———

Amy Pacholk
Registered Nurse 1 Teaching Research Center
SUNY Stony Brook 

"She is a valued member of the union, standing up for all its members and wanting the highest quality for the members and the patients we care for. She is always standing up for nursing. She has demonstrated how to be a leader." 

———

Kristie Pound
Licensed Master Social Worker 2
OMH 

"Kristie took on a division whose stewards all just quit. She quickly jumped into her leadership role, learning as fast as she could. She started having member meetings, which hadn't happened in years, and went out to meet members in faraway outside locations. I was with her, and they all commented how no one had come to visit them before." 

———

Angelina Rodriguez
Information Technology Specialist 2
SED 

"She is courageous and committed to representing members. She puts herself out there and tirelessly works to advocate for us." 

———

Michele Iorfida
Senior Case Manager
Roswell Park 

"Buffalo has been in the spotlight in 2022 because of a mass shooting, a blizzard, and an earthquake. Michele has demonstrated strong leadership skills in assisting PEF members in whatever their needs may be. Her leadership needed to be diverse, culturally sensitive and trauma informed. She is to be applauded for exceptional work to the membership." 

———

Allison Szokoli
Registered Nurse 1
OCFS 

"Allison is an amazing nurse who has begun yoga classes with our female residents, introducing incarcerated youth to healthy ways to manage stress. She truly is a gem." 

———

Darlene Williams
Occupational Therapy Assistant 2
OMH 

"Darlene is a powerful woman and a role model." 

———