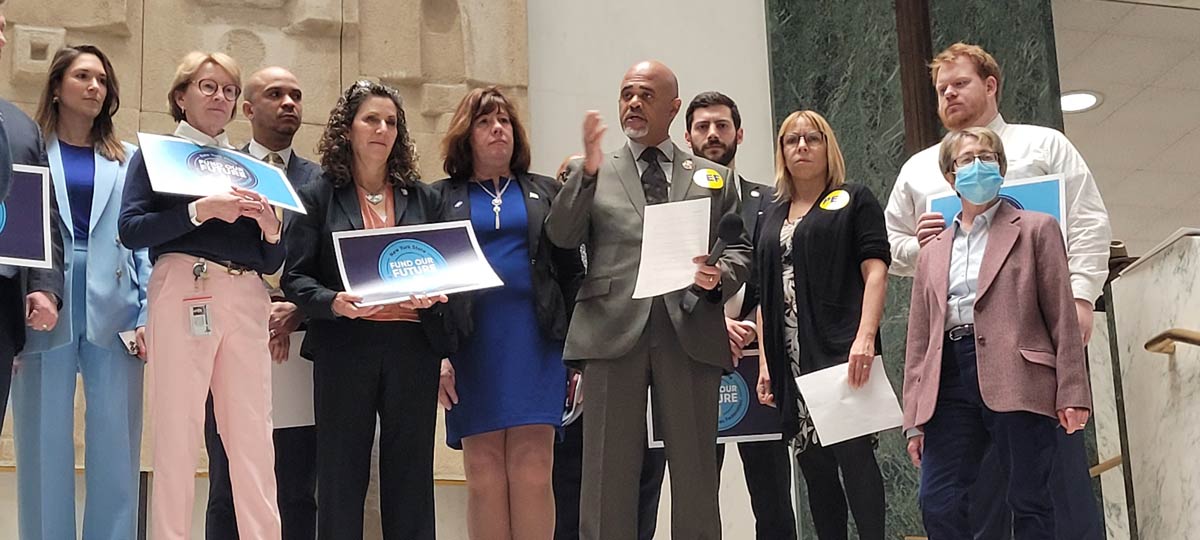 April 3, 2023 – Four-feet wide and 42 feet long, the petition PEF rolled down the steps of the Legislative Office Building March 29 was a striking visual with a powerful message: 10,000 New Yorkers agree, it's time for the state to invest heavily in the state workforce and in public services.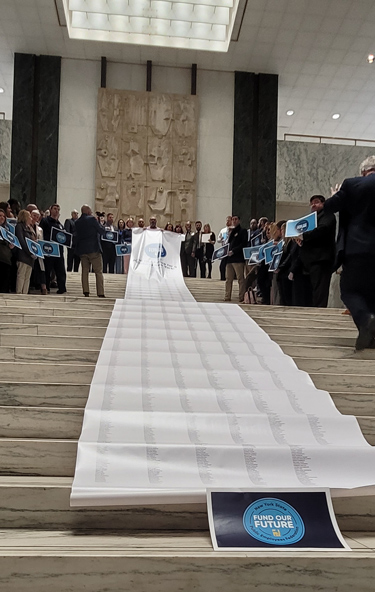 "A functioning democracy depends on the essential work of public employees, who deliver the services we all use every day – from public education to affordable health care, transportation, safe streets, green spaces, and so much more," said President Wayne Spence. "As lawmakers and the Governor finalize the state budget, we have been working with them to make sure that budget reflects the needs of our membership, and of the people of New York." 
In 2020, PEF launched the Fund Our Future campaign, a coalition of union and community leaders committed to making the case for reshaping government in our public interest. The campaign's tenants are straightforward: privatizing public goods such as social services runs contrary to the public interest in maintaining the common good; people have a right to transparency regarding how their government funds services that benefit everyone; everyone must pay their fair share for public services; and we must safeguard our public investments by ensuring a strong system of public inspection and audits. 
The petition urged legislators to:  
Use Tax Dollars for the Public Good

: End the wasteful practice of paying thousands to contractors to perform work that public employees can do for half the cost;

 

Improve Staffing and Essential Health Care for the Most Vulnerable New Yorkers

: Cease closing group homes at OPWDD and rebuild public services so all New Yorkers can efficiently and effectively receive care when required;

 

Reinvigorate the Civil Service System: Offer more frequent Civil Service exams to attract workers and improve pay equity across the State.

 
At the unfurling, legislators stopped by to offer their support, including Senators Shelley Mayer, Michelle Hinchey, John Mannion, Robert Jackson, Toby Stavisky, and Jim Tedisco, and Assemblymembers Dana Levenberg, William Conrad, Aileen Gunther, Marianne Buttonschon, Edward Gibbs, Alex Bores, Josh Jensen, Manny De Los Santos, Pat Fahy, Harvey Epstein, Deborah Glick, Chantel Jackson, Brian Manktelow, and Karen McMahon.  
You can read some of their comments here. 
"We must continue to create pathways to the middle class by growing state jobs with competitive salaries, benefits, and an attractive pension plan," said PEF Vice President Randi DiAntonio. "We have to fix Tier 6 so the skilled state workers we already have stick around and so new hires have an incentive to make state service a long-term career."