May 3, 2023 — Region 11's annual Spring Fling on April 13 was a little more special this year thanks to an appearance by New York City Mayor Eric Adams. Adams showed up at the request of PEF President Wayne Spence to honor Charles Roland, who retired from state service in 2021 but remains extremely active in PEF, both as the Region 11 treasurer and chair of the Political Action Committee (PAC).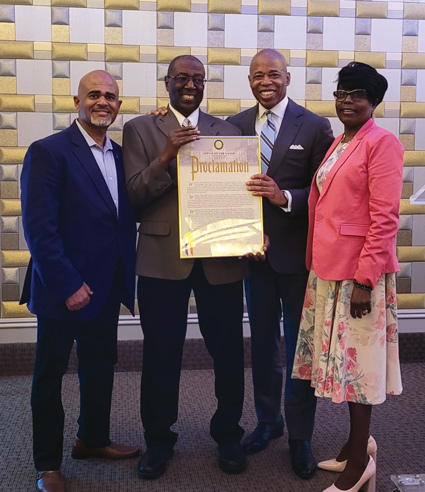 Adams thanked PEF for being the first union to endorse him and then read a proclamation naming April 13, 2023, as "Charles Roland Day."  
"Whereas New York rises on the foundation of our vital public servants who power the five boroughs and support our diverse residents," the proclamation reads. "Having served 45 years as a psychiatric social worker with the New York state Office of Mental Health, and several decades as a member of the New York state Public Employees Federation, Charles stands out as one of these dedicated individuals." 
Roland said the proclamation and Mayor Adams' appearance came as a complete shock. 
"I was very surprised," Roland said. "It was a very humbling and overwhelming feeling." 
Roland was born and raised in Staten Island and attended Staten Island Community College in 1973. He then obtained his bachelor's degree in psychology from Hunter College in 1975, and a master's degree in social work in 1977.  
He started as a therapy aide at South Beach Psychiatric Center in 1976, and later became a social worker after obtaining his degree. Roland enjoyed the work, but briefly left South Beach to work at the Manhattan Development Center. Due to layoffs, he found himself employed for a while with the Board of Education before finally returning to South Beach. 
He became active at PEF in 2000, joining the Region 11 planning committee and eventually becoming Co-PAC chair and Treasurer. During his tenure, Roland has overseen many legislative events, conferences, and political actions in Region 11, and always helps organize the Spring Fling. 
In addition to his duties at PEF, Roland is also very involved with his community and is an Executive Committee member for the Staten Island Democratic Association, an active member of the Asian-American Labor Council, a Board member for the Family Support Organization of Union City New Jersey and is the Clinical Director of the Bethel Community Church's overnight men's shelter in Staten Island. He is also the church's treasure and a member of the Trustee Board. 
Despite retiring from South Beach in 2021, Roland remains committed to his community work and PEF.  
"It's something I enjoy doing, so it doesn't feel like a lot," Roland said. 
Roland decided to stick with PEF especially, because he feels that PEF has helped him so much, and he values the work of the union. He loves working with and helping the members in his region. Roland continues to help with Division 253 at South Beach Psychiatric Center and supports the new leadership. 
"It's family," Roland said. "PEF has become family." 
Roland encourages others in his region and throughout PEF's membership to stay committed in any way they can. Despite thinking of himself as just a foot soldier, he realizes he's been able to help many members in Region 11. He also recognizes that staying committed can be difficult. 
"I always tell people, it's never personal," Roland said. "People will always be stressed about work and will want to vent to you and through you."  
Despite that, Roland said, being a union activist is worth it even if you help only one person.