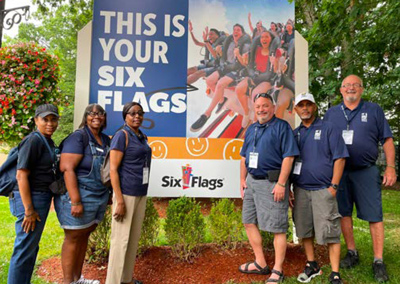 May 18, 2023 — Don't miss out on the opportunity to take your family to a Six Flags theme park this summer at tremendous savings! 
The popular, and very well attended PEF MBP Family Day events are back and tickets are going fast! This year's events take place July 8 at Six Flags Great Adventure & Safari in Jackson, N.J., August 12 at Six Flags Darien Lake in Darien Center, N.Y., and for the first time ever, the Six Flags Great Escape event in Queensbury, N.Y., will be a Halloween event on October 21. 
 "After several years of very successful Family Days in the summer months, the MBP Trustees decided to try something different with Fright Fest at Great Escape," said PEF Membership Benefits Marketing Contract Specialist Annmarie Bikowicz.   
So, what can you expect at each event? Family fun, day long smiles, all the food you can eat at the free buffet lunch, vendor tables with information on PEF MBP benefits, special giveaways, raffle prize opportunities for every PEF member and retiree, and much more! The ticket price for the two summer events at Six Flags Great Adventure and Darien Lake include park and water park admission, a buffet lunch, and parking. You have access to all the rides and water fun from the time each park opens until closing. 
For the Six Flags Great Escape event in October, enjoy the rides and attractions, trick- or-treating for the kids, discounted tickets for the haunted houses, all you can eat at the free buffet lunch, PEF MBP vendor tables, benefit information, giveaways, and raffle prizes as well. Come in costume and take part in the Fright Fest fun. Although it will be a Halloween-themed day, there will not be anything particularly "scary" until 4 p.m., when the "haunted" attractions begin. "It is suggested that families with young children leave the park by 4 p.m.," said Bikowicz.   
Additional discounts are available at each event, including special pricing on souvenir water bottles that will provide you with free soda and water refills throughout the park for the entire day, and a discounted season pass upgrade promotion only available the day of the event. 
Family Day tickets are just $30 and children under 2 years of age are free. If you visit the parks on your own any day during peak summer months, you will find that a daily admission ticket can be as high as $44.99 (and this does not include entrance into Hurricane Harbor at Great Adventure as that is a separate park), general admission parking is as much as $40, and a single meal deal starts at $21 per person. 
Whether you're seeking summer thrills or Halloween chills, PEF MBP's Family Day events supply it all, and at great savings for you and your family. 
Click here to get your tickets now.  Watch this video to learn more about Family Fun Days.
For more information on all PEF MBP offerings, visit www.pefmbp.org.