April 28, 2023 — PEF staff and union members gathered at PEF headquarters on Workers Memorial Day to remember workers who were killed or injured on the job, and to recommit to the fight for safe workplaces.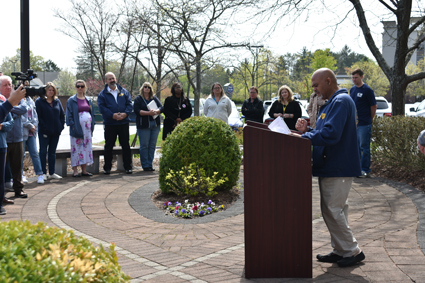 "Employers always say these are tragic, but unavoidable accidents," PEF President Wayne Spence said outdoors at the union's memorial to members lost on Sept. 11, 2001. "But there is no such thing as a workplace accident. Nearly all, if not all, of these fatalities could and should have been prevented." 
Nationally, worker fatalities have been on the rise, with a 9% increase since last year, accounting for 5,190 fatal work injuries. As worker fatalities and injuries rise across the nation, President Spence pointed out that it seems some states are moving in the wrong direction. 
"Some states are even rolling back child protections," President Spence said.  
In New York, short staffing and recruitment and retention issues are contributing to more workplace injuries as workers are forced to work harder and faster to meet job demands. New York State employees reported 13,000 incidents of workplace injury or illness in fiscal year 2021-2022, costing the state $70 million in workers compensation. 
President Spence highlighted the words of historic union organizer, Mary "Mother Jones" Harris: "Mourn for the dead, and fight like hell for the living." 
PEF Secretary-Treasurer Joe Donahue followed President Spence's remarks with a few words about the importance of unions in the fight for protecting the health and safety of employees. 
"We know that union workplaces are safer workplaces," Donahue said. 
He spoke about the role PEF played in making sure personal protective equipment was available for members at the height of the pandemic. 
PEF Director of Health and Safety, Geraldine Stella closed the ceremony by saying that the fight for workplace safety is never-ending. 
"PEF has always been actively involved in the fight for worker safety and health in New York state and nationally," Stella said. She stressed the need for the Occupational Safety and Health Administration to do more to shore up protections for workers. Inaction on the federal level leaves state workers in dire situations. 
"There's a lot more to do and OSHA has not been pushing for protections against workplace illnesses or the next pandemic," Stella said. "Without stronger federal guidance, PESH –which is the public employee arm of OSHA in New York State—is too often unable or unwilling to issue violations." 
Even with all the work to be done, Stella stressed that it's important for unions to celebrate their wins. 
For PEF that means not only the lasting protections put in place during the COVID pandemic, but also the trauma support offered to workplace violence victims. 
"We fought for and won safety measures for assaulted members returning to work," Stella added. 
PEF regularly inspects worksites, files PESH complaints when issues are identified, and trains leaders and members of the union's health and safety committees on everything from workers compensation to how to identify hazardous materials in a work environment. If you want to get more involved in your local health and safety committee to make your workplace safer, contact HealthandSafety@pef.org.