May 3, 2023 — Hundreds of PEF members and members of the community came out to the first annual PEF Wellness Fair and AFT Book Giveaway on April 29, 2023, at the Albany Armory. The fair was put together in collaboration with AFT, who secured 20,000 books for readers of all ages to give away, and PEF Membership Benefits, who helped organize more than 40 informational booths to educate the community about services offered in New York. The free event was geared toward helping the community find the support they need to maintain their physical and mental health.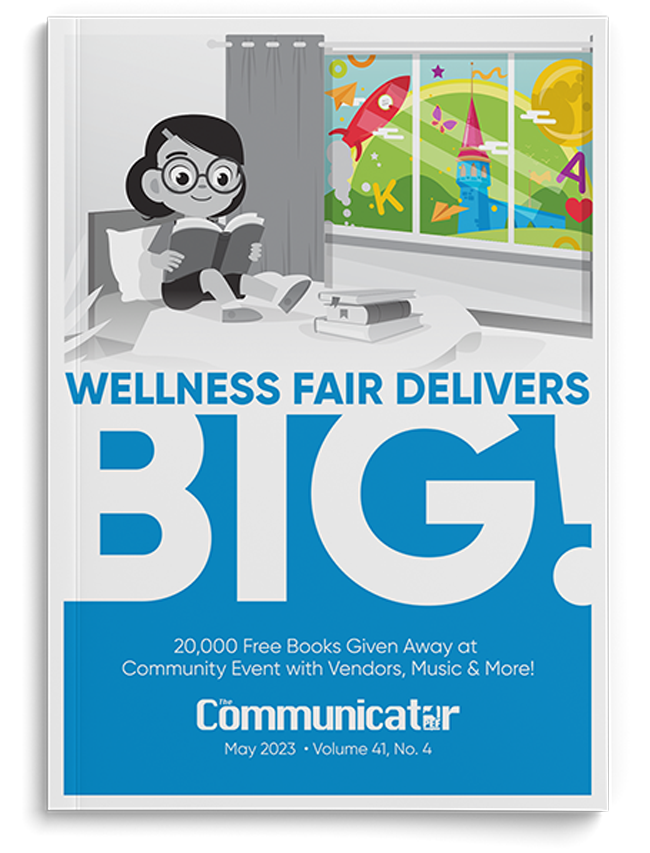 The fair was the brainchild of the PEF Black Caucus, which sought to put together a health and wellness event for PEF members exclusively. But during the course of its development, the fair evolved into much more. 
"What turned out to be a health fair just for PEF members became a health and wellness fair for the entire Capital Region," said PEF President Wayne Spence, who made brief remarks at the beginning of the fair, along with Albany Mayor Kathy Sheehan, Albany County Executive Dan McCoy, AFT Executive Vice President Evelyn DeJesus, Executive Deputy Commissioner of State Education Sharon Cates-Williams and President of the PEF Black Caucus Carrie Saunders. 
Families, teachers and librarians browsed the book selection, sorted by reading level. Families could take away up to 10 books and area educators up to 40. It wasn't unusual for some families and teachers to pull wagons and carts behind them, hoping to fit as many books as possible. 
Many of the books featured Disney and Marvel characters and caught the attention of the children. 
"My favorite Disney character is Ariel," one 5-year-old said while her mother held a stack of Little Mermaid books. 
By the event's end at 3 p.m., all of the 20,000 donated books were gone.  
State offices like the Office of Cannabis Management, the New York State Office of Parks, Recreation and Historic Preservation, and the New York State Department of Corrections and Community Supervision (DOCCS) came out to the event, while area merchants like Retro Fitness and Hannaford Supermarkets also set up tables on the floor where the Albany Patroons play their home basketball games. The state agencies and companies showcased at the event offered not only information, but also opportunities. 
DOCCS, for example, offered information on how to join their ranks, and even handed out paperwork to help the application process along. 
A few vendors and invited guests also presented informational workshops. The workshops covered things like What to Do When Stopped by the Police, How to Manage Mental Health, Why Buy Legal Marijuana, and Debt Counseling.  
Albany Mayor Sheehan expressed gratitude to PEF for creating the event for the public. 
"We get caught up in our jobs and all of the things we're advocating for, and PEF does an incredible job advocating for the workforce," Sheehan said. "But to take a step back and see 'how do we take all the talent and the amazing abilities we have at PEF to pull people together and do something for the community?'" 
McCoy picked up where Sheehan left off, expressing gratitude to PEF members for showing up, but also recognizing that the power of the union has helped him get things done for the workforce, like negotiations for free hearing aids and other healthcare benefits.  
"There are benefits these days that we take for granted today," McCoy said. "Your healthcare, your vacation, your sick days, your work hours, are all because unions organized and got things done." 
AFT Executive Vice President Evelyn DeJesus also gave remarks. AFT, in partnership with the non-profit organization First Book, has created "Reading Opens the World" events across the country, with the goal of distributing one million books. 
"When a child reads, it opens their minds, it opens their imagination," DeJesus said. "They become great readers and great citizens."  
Spence thanked Cates-Williams for her help in making sure that schools and teachers were given access to the event.  
"I hope this is not the only time we're going to do this event," Cates-Williams said.  
As the event wrapped up, there were already whispers about a bigger and better fair in 2024. Stay tuned!