May 11, 2023 — In the minutes, hours, days, and weeks following the mass shooting at the Tops Friendly Markets in Buffalo, American Red Cross volunteers provided mental health, spiritual, and material support to the victims' families, Tops staff, and the greater community.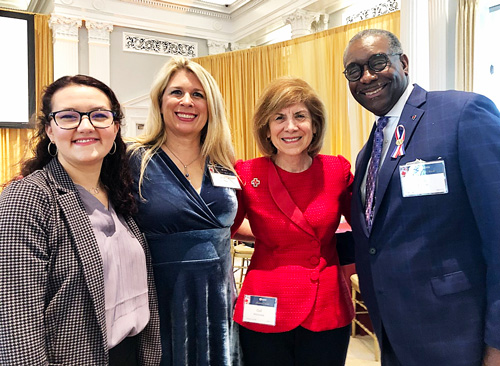 Within an hour of the shootings on May 14, 2022, that claimed the lives of 10 and injured three, Red Cross volunteers were on site. The following morning, PEF member Dr. Jennifer May joined them, using her skills as a mental health professional to lead an Individual Disaster Care Team of Red Cross volunteers and staff.  
"This was an incident of mass violence in our own community," said May, a psychologist with the Office of Temporary and Disability Assistance. "Some of us had ties to either the neighborhood, the city, or the victims. That made the work more challenging and in a lot of ways more difficult but is also made it more rewarding." 
It was that work that earned May and fellow team members the Red Cross Humanitarian Services Presidential Award of Excellence, presented last month in Washington, D.C. 
"The award came as such a surprise," she said. "People thank you for what you do, and you do it because it feels necessary and rewarding to do the work, sometimes at great personal cost and strain. You almost never get outside recognition for it. This was incredible." 
May was inspired to become a volunteer after the terrorist attacks on Sept. 11, 2001. 
"That monumental event happened, and I felt helpless to do anything, but I had the skills to help people," she said. "At the time I was not connected with any agency or organization, and you never want to just show up at a disaster scene." 
When she joined state service with the Office of Mental Health a few years later, the agency offered disaster mental health training. That eventually led to deployments for hurricanes, floods, and other natural disasters. She connected with the Red Cross to be able to help outside New York and her service is made possible by the New York Disaster Leave Law. 
"I'm still shocked so few employees know about the law," May said. 
New York law allows public officers and employees of municipal corporations and school districts who are certified by the American Red Cross as disaster volunteers to be granted up to 20 days leave from work with pay to participate in specialized disaster relief operations, with agency/employer approval.  
PEF members can learn more about volunteer opportunities on the Red Cross website.