May 8, 2023 — PEF President Wayne Spence and more than a dozen PEF parole officers gathered outside the city court in Cohoes, N.Y., on May 4, 2023. Spence delivered remarks regarding the case of parolee Taquan Hassell, who was charged with Unlawful Imprisonment and Assault in the third degree of a parole officer. The officer is a member of PEF.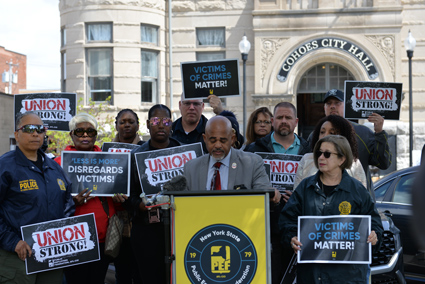 "This parolee decided that it was okay for him to prevent an officer who stopped by to perform a routine residence verification and curfew check on April 26," Spence said during the press conference. "Literally, he physically prevented this New York State parole officer from leaving the residence." 
Hassell appeared in court on May 4. Following the hearing, Spence spoke with parole officers about the incident, the concerns of parole officers and PEF members, and how PEF believes the state should move forward. He praised the officer for not using force to resolve the incident.  
"So many things could have gone wrong. But the parole officer kept their composure and was professional," he said. "The officer was eventually able to leave by talking him down. It is a testament to who we are as New York State Parole Officers." 
Parole officers are typically armed and are a part of the Department of Corrections and Community Service and in addition to firearms training, they receive training on social worker skills. 
"We're hearing about more and more cases of parolees confronting the parole officers in charge of supervising them," Spence said. "Thanks to Less is More parole reform, parolees have no sense of accountability for bad behavior." 
Spence specifically cited the "30 for 30" clause as one of the crucial issues for parolees feeling emboldened under Less is More. Parolees currently earn 30 days off their sentence for every 30 days of good behavior while on parole. However, any violations they incur while on parole, such as assault charges or skipping curfew or missing mandatory drug treatment programs, do not stop the 30-day clock until they are convicted of a new offense.  PEF believes this takes too much power away from parole officers, who can no longer enforce consequences on their parolees. 
So although Hassell has been charged and is working through the court system, "30 for 30" still technically applies until a final hearing. 
"This person is still earning good time as though this person is a model parolee," Spence said. "There's nothing model about this." 
PEF hopes lawmakers amend Less is More, and Spence is looking for the chance to help facilitate that change. 
"I welcome an opportunity for the legislators, the governor's folks, even the advocates to sit and talk to parole officers about what's going on in the community," Spence said. "No one talked to us about what's going on (before Less is More was enacted)." 
PEF will continue to advocate on behalf of parole officers to get the support they need to serve their communities.  
"This time we were lucky. This time this officer, by the grace of God, came home unscathed," Spence said. "What will happen the next time?"