May 12, 2023 — PEF Region 7 Coordinator Barbara Stransky was born and raised in DeKalb Junction. She knows the people and the values of the North Country and believes that Region 7 has some of the kindest members. So, when Random Acts of Kindness Day came up on her calendar on February 17, 2023, she went to work engaging her members.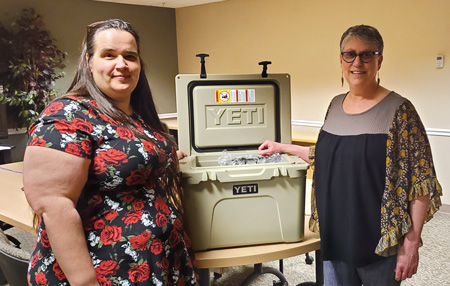 Random Acts of Kindness Day was established by the Random Acts of Kindness Foundation. The foundation was created in 1995 and its mission is simple: to spread kindness in the world. Stransky has followed the foundation and the efforts to make the world a little kinder for a few years now.  
Stransky decided that the best way to show off Region 7's members and give back to the PEF community was to hold a raffle with Random Acts of Kindness as the way to accumulate tickets.  On the Region 7 Facebook page, Stransky asked members to do something nice for another person that day and post about it. The tagged post would count as an entry into the raffle to win a Yeti Tundra Cooler.  
"I strongly believe that Region 7 has the kindest members," Stransky wrote on Facebook. "I am always so proud when I represent this region." 
Her post received more than 50 comments from members of Region 7, each detailing small ways they've helped people in their community. Stransky wasn't surprised that so many members were eager to help each other. 
"We still value checking in on our neighbors," she said.  
Many of the comments highlighted both the region's willingness to support one another, as well as many of the region's common establishments.  
"I left the quarter in my Aldi's cart and gave it to someone else," one post read.  
"I sent my sister a Starbucks gift card because it is her favorite and she no longer can fit it into her budget," another read. 
"One of my favorites was: 'I laughed at someone's joke even though I heard it many times,'" Stransky shared. 
"Paying it forward is very common in Region 7," Stransky said. "It may seem strange in other regions, but in the North Country, we always do that." 
The winner of the Yeti cooler was chosen at random via the spin of a prize wheel. All the names of those who participated in the raffle were added to the wheel. In April, during Region 7's membership meeting, the winner, Kare Vassar, was presented with her new Yeti. 
"I called her after I spun the wheel," Stransky said. "She was very happy. She received it on a Friday and said she was taking it camping for the weekend." 
Stransky said that members of Region 7 love the contests and that she already has another cooler ready for the next one. 
"I have given away five coolers already," she said. "The members said they would rather have one person win a big prize than to give out smaller items." 
Stransky is hopeful that Region 7 and all of PEF see the effect that kindness can have. 
"In today's world, kindness goes a long way. It affects us all," she said. "If you smile at just one person, you can change their whole day."