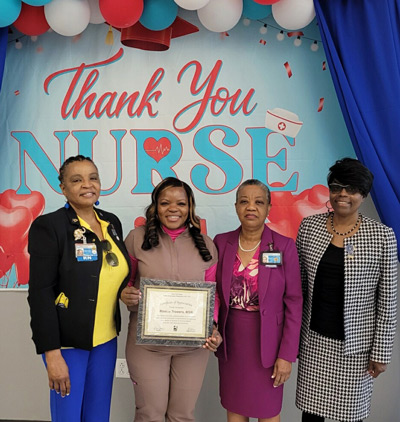 May 16, 2023 — At their Nurse Appreciation Lunch on May 10, PEF members at SUNY Downstate hospital recognized two nurses, Dornalee Walker and Maxine Trowers, for their commitment to the profession. 
Walker started at Downstate in 2007 with her bachelor's degree, became a board-certified clinical nurse specialist in 2016 and she received her Doctorate in Nurse Practice in 2020. She is now preparing for certification in diabetic education.  
"PEF wants to recognize her for her accomplishments and her inspiration to others," said Division 198 Council Leader Joan Rosegreen. "We thank her for her dedication to the profession and the patients." 
Trowers started her Downstate journey 21 years ago in the Medical Surgical unit before transitioning to the Neuro Stroke unit where she has been for the past 18 years. 
"Her leadership skills, her professionalism, and her resilience have not gone unnoticed," Rosegreen said. "PEF congratulates Nurse Trowers on receiving her MSN as a Family Nurse Practitioner in December 2022." 
She was recently promoted to Nurse Supervisor RN 3 as a part of the leadership team on the Neuro Stepdown/ Stroke unit.