June 6, 2023 — When the Public Broadcasting Services (PBS) wanted to feature Niagara Falls as part of its "Nature" series, talking to PEF member Marcus Rosten was a no-brainer. Rosten was approached with the exciting opportunity two years ago, a year before he joined state service and PEF as an environmental educator.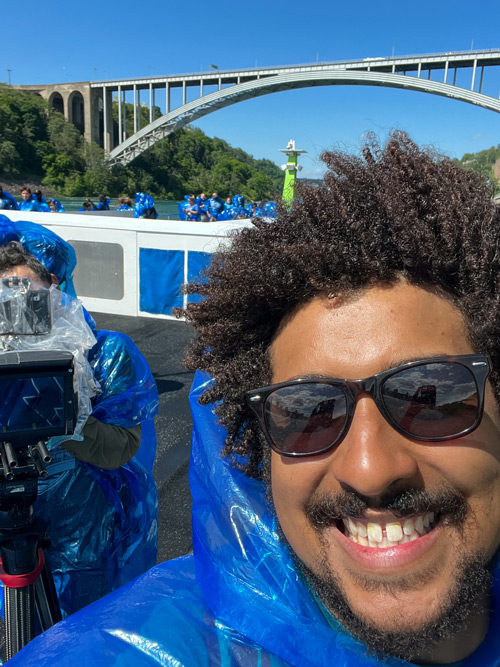 "The PBS producer reached out to me because of my work promoting the nature and ecology of the Niagara River," said Rosten. "They were doing research into Niagara and were looking for leading voices in the area." 
With his involvement in the Birds on the Niagara organization and with years of experience in environmental education and interpretation, Rosten shared his knowledge of aquatic biology with viewers of the docuseries. The episode, lasting approximately 53 minutes, took two years to film. 
"The goal was to capture the wildlife on the Niagara Escarpment in a year's time," Rosten said. "We filmed in each season – from fall on the river looking at the gulls that start migrating in, to the spring when we headed inland to look at the wetland ecosystem at Reinstein Woods Nature Preserve, where I work with DEC. 
"In the summer, we headed out on the river and tried to get a feel for how powerful the river is underneath Niagara Falls on the Maid of the Mist," he said. "We also talked about how the Niagara River is a nursery for nesting herons, egrets and other colonial nesting birds." 
For more than eight years, Rosten has worked to educate the public about the majesty of the Niagara Escarpment and the wildlife it supports.  
"This is my biggest project that I've been a part of and the one I'm most proud of with the widest reach," he said. "My life goal is to protect our Niagara River watershed, our Great Lakes watershed, by connecting people to it." 
It was Rosten's love of the outdoors that led him into environmental studies. 
"I always wanted to be outside," he said. "I always wanted to work with plants and animals and with ecology. As you start getting education in the natural world and natural history, you get to see a lot of large-scale issues in our environment. The more you fall in love, the more you want to protect it. 
"The roots of most of our environmental protection issues come down to people," he said. "That is where we see environmental education as the key to resolving more of the longer-scale problems." 
Rosten encourages everyone, whether they are interested in a career in environmental education or not, to get involved in their community. 
"There are countless ways for anybody of any age, ability, capability to get involved," he said. "You can volunteer at your local nature preserve. You can write down birds you see to contribute to scientific databases. Anybody can get involved. Think local and work on problems and issues in your area and in your community." 
While the episode of PBS Nature featuring Rosten and Niagara Falls is no longer free on the streaming platform, you can subscribe to PBS and access the episode here.