July 5, 2023 — FoJuly 5, 2023 — For Christopher Fisher the decision to run for city council in the City of Tonawanda was an easy one.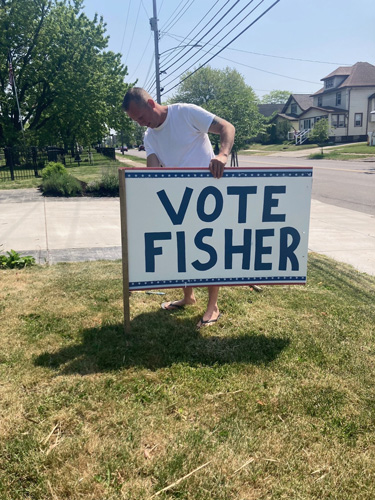 "I was sick of complaining about stuff. So, I'm going to do something about it," Fisher said. 
After years of tax increases while watching the roads and sidewalks in his part of Tonawanda get worse and worse, Fisher chose to run for councilmember of the 2nd Ward. 
Fisher is a disabled Army veteran and retired officer of the New York Police Department who currently works for the Department of Health as an investigative specialist of narcotics. Before joining PEF's Political Action Committee, he was the acting associate director of the Police Benevolent Association (PBA of NYS) at SUNY University at Buffalo, where he was also involved in the Political Action Committee and lobbying. 
As part of his roles on Political Action Committees, Fisher has enjoyed meeting with leaders at all levels of government, including Governor Kathy Hochul, who he supported and volunteered for throughout her campaign. 
Fisher is endorsed by PEF and by PBA of NYS. His focus on fiscal responsibility and stability and his commitment to organized labor made him a strong candidate. 
The campaigning process for Fisher started a bit rocky. The process for getting endorsed by the Democratic Committee in his area presented a few roadblocks, but eventually he got onto ballots on his own line called "Residents First." 
"I had to learn how to create petitions for my run. We ended up getting four times more than the 55 signatures we needed," Fisher said. 
On June 28, 2023, Fisher won his primary for the 2nd Ward, earning 58 percent of the vote. 
He's now eager to meet voters and make the case why he deserves to win the general election in November. 
"We'll be knocking on more doors than before," Fisher said, about himself and his wife. "Not just Democrats, but Republicans and Independents and everyone else in between." 
Fisher says if he wins, he will do everything he can to bridge the gap between the needs of his ward and helping the city of Tonawanda.